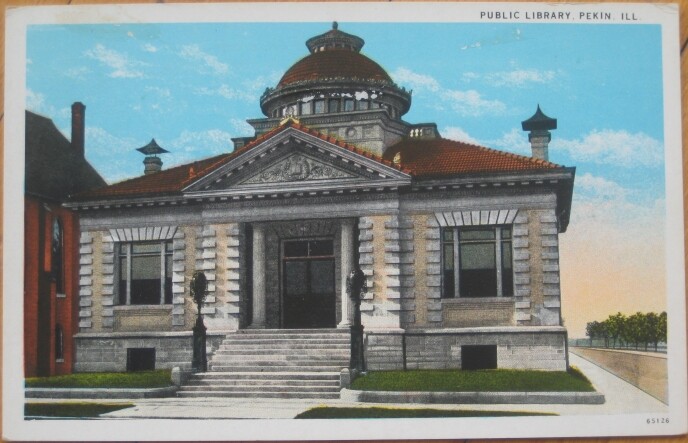 Discover New Possibilities And Get To Know AARP and What We're Doing In Pekin.

Check out the exciting events happening in Pekin, Illinois and join AARP IL to learn more about new opportunities in Central Illinois.
Register online or call 1-877-926-8300 to learn more about any of these and future opportunities with AARP in your backyard!

ALL EVENT ARE HELD AT:
Pekin Public Library
2nd Floor Community Room
301 South 4th Street
Pekin, IL 61554
June 2019

Tuesday, June 4, 2019
Homefit Workshop
11:30 am – 1:00 pm
RSVP: https://aarp.cvent.com/PekinHomeFit or 1-877-926-8300
Wednesday, June 5, 2019
Digital Photography & Your iPhone®
1:00 pm – 3:00 pm
RSVP to https://aarp.cvent.com/PekinDigital or 1-877-926-8300
Monday, June 10, 2019
10 Retirement Planning Tips
6:30 pm - 7:30 pm
RSVP to https://aarp.cvent.com/RetirePekin or 1-877-926-8300
Tuesday, June 11, 2019
Job Search in the Digital Age
11:30 am – 12:30 pm
RSVP to https://aarp.cvent.com/PekinJobs or 1-877-926-8300
Wednesday, June 12, 2019
Sharpen Your Networking & Interview Skills
11:30 am – 12:30 pm
RSVP to https://aarp.cvent.com/PekinNetworking or 1-877-926-8300
Monday, June 17, 2019
Fraud Watch Network: ID Theft & Cyber Safety
6:00 pm – 7:00 pm
RSVP to https://aarp.cvent.com/PekinID or 1-877-926-8300
Tuesday, June 18, 2019
Fraud Watch Network: Government Imposter & Online Relationship Scams
11:30 am-12:30 pm
RSVP to https://aarp.cvent.com/PekinOnline or call -1-877-926-8300
Wednesday, June 19, 2019
Fraud Watch Network: Investment Fraud & Medical ID Theft
11:30 am – 12:30 pm
RSVP to https://aarp.cvent.com/FraudIdentity or call -1877-926-8300
Monday, June 24, 2019
Financial Basics for the 50-plus
6:30 pm – 7:30 pm
RSVP to https://aarp.cvent.com/FinancialBasics or call-1877-926-8300
Tuesday, June 25, 2019
Social Security: Understanding Your Benefits
12:00 pm – 2:00 pm
RSVP to https://aarp.cvent.com/PekinSecurity or call-1-877-926-8300
Wednesday, June 26, 2019
Medicare 101: Understanding the Basics
12:00 pm – 2:00 pm
RSVP to https://aarp.cvent.com/PekinMedicareBasics or 1-877-926-8300