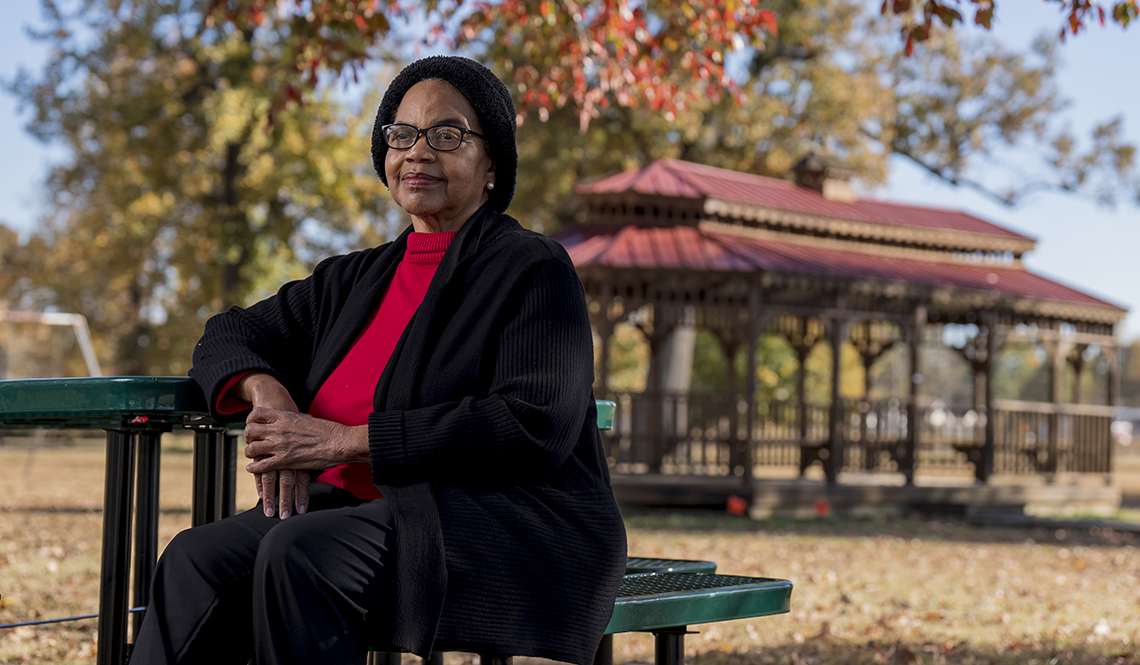 Woodstock residents have a new way to enjoy the outdoors: a walk in the woods in the city's Em-ricson Park.

The crushed-limestone path opened in September and has natural play areas, creating the area's first intergenerational nature trail. It runs through an oak forest speckled with shooting star plants, trillium flowers and wild geraniums. Sharp-eyed walkers may spot deer, foxes, sandhill cranes and other wildlife. It's wide enough for a wheelchair to navigate.

The city of Woodstock, located about 50 miles northwest of Chicago, received a 2022 AARP Community Challenge grant for the project. It was one of four Illinois winners of the awards, which fund local initiatives to improve the quality of life for all residents.

"We are always looking for funds to create new public amenities for the growing number of residents over age 50," says Terry Willcockson, city of Woodstock grants manager.

About 90 Illinois organizations applied for the grants, which totaled nearly $115,000 this year. Applicants proposed projects to improve spaces for adults 50-plus, both in their homes and in public spaces, and sought to enhance intergenerational activities, parks and education opportunities, says Ellen Acevedo, AARP Illinois volunteer engagement and mobilization director.

"Decisions were difficult, as there were so many great proposals," Acevedo says.

Increasing accessibility

Two other Illinois municipalities and a nonprofit also received grants. In the Chicago area, the SafeLIGHT Foundation will use its AARP award to provide taxi and ride-sharing services to older adults through its Seniors Matter program.

Those area residents need a way to safely get to the doctor, pharmacy, grocery store and other essential places, says Yvonne Davila, the foundation's executive director. The services will be offered in Country Club Hills, Evergreen Park, Matteson, Richton Park and Skokie.

"So many of my girlfriends have to drive their senior parents somewhere," Davila says. "We appreciate this opportunity to help seniors maintain mobility and independence."

In Rockford, the city's AARP grant helped fund a project that included repairs to ramps, stairs, railings and porches in homes in six neighborhoods with a high number of residents 65 and older. The grant also paid for street sign repairs, street sweeping and the installation of benches and raised garden beds.

Near the state's southern tip, a community challenge grant funded improvements to City Park, in Mounds. The city focused on making the park more accessible for older residents. New toilets with higher seats in the park's restrooms meet Americans With Disabilities Act requirements.

New benches and tables complete the changes, which make the park an even more welcoming hub for all ages, says Alsandra Lewis, 77, a lifetime resident of Mounds. The retired high school teacher has used the park for family and class reunions, Labor Day and Fourth of July celebrations, and a walk to raise money for breast cancer research.

"It's the center of gatherings and fellowship for the community," Lewis says. "For it to be in the best possible shape is important."

Lisa Bertagnoli is a writer living in Chicago.

For more on AARP's Community Challenge