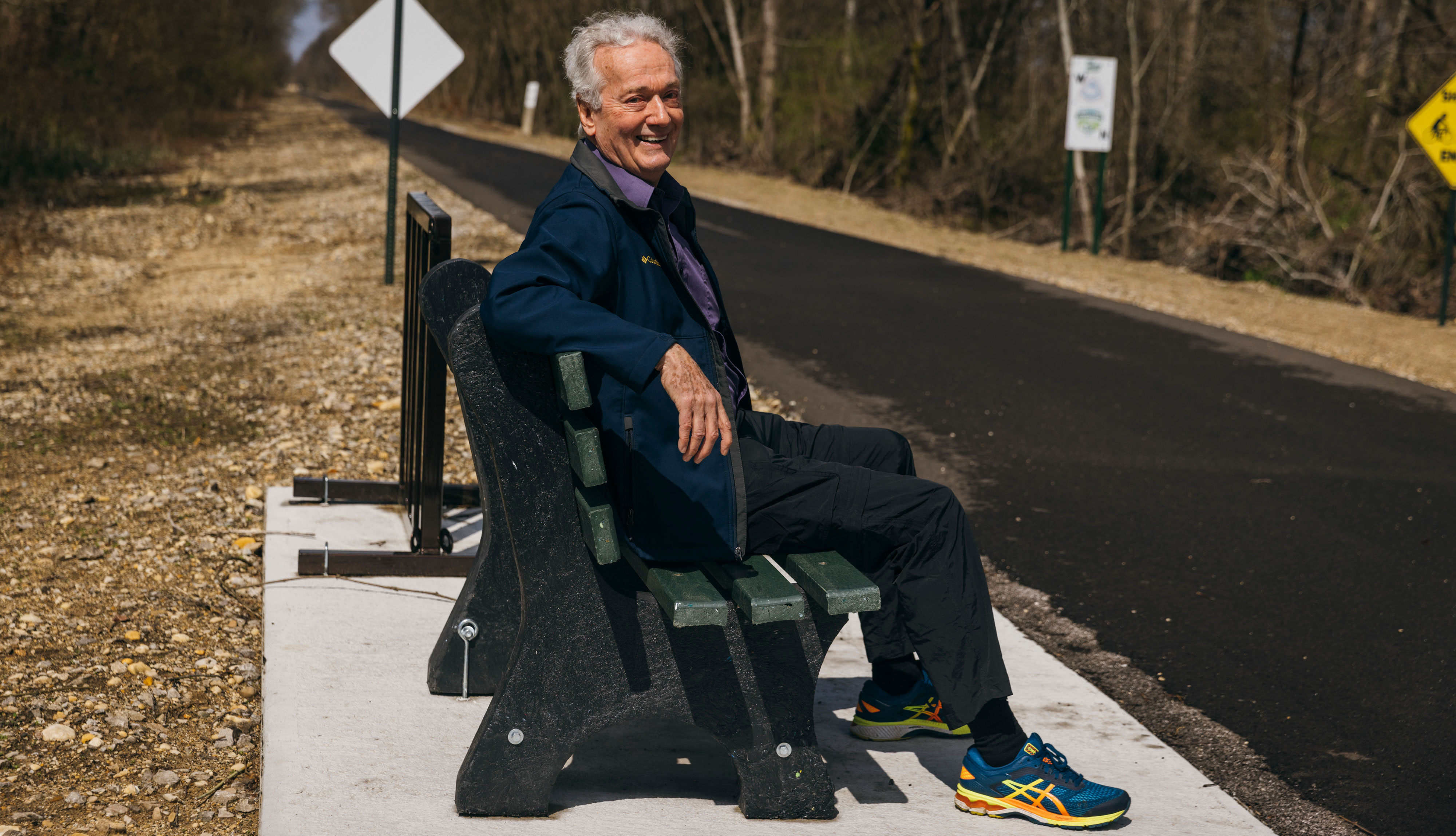 When Starke County residents saw a chance to improve their beloved Erie Trail, they jumped at it, collecting thousands of plastic bottle caps as part of a recycling program that earned them new park benches in return for helping clean up the environment.

The effort also ultimately led to a $390,750 state grant to create a 2.1-mile paved extension to the trail, which is part of a rapidly expanding network across Indiana.

"This trail extension provides more outdoor space for a wide variety of activities," says AARP member Steve Lucas, 73, who lives in a rural part of Starke County. In addition to walkers, bikers and horseback riders, the trail is used by bird-watchers, wildflower enthusiasts and people observing wetlands wildlife, says Lucas, who worked on the bottle-cap project with the non-profit Prairie Trails Club, whose volunteers help manage and maintain the Erie Trail.

Closed to motor vehicles, paved pathways are an increasingly popular way for Hoosiers of all ages and abilities to safely navigate urban, suburban and rural areas.

Growing demand has prompt- ed Indiana lawmakers to allocate $150 million in recent budgets to the Next Level Trails program to improve and expand the state's trail systems. Gov. Eric Holcomb (R) proclaimed 2021–22 "Indiana's Year of the Trails," amid enthusiastic bipartisan support.

The most commonly known paved trails are those along defunct railway routes, but they also include stretches of sidewalk, bridges and greenways.

Trail upkeep crucial

Advocating for the creation and upkeep of these paths is part of AARP Indiana's efforts to pro- mote more livable communities, says Addison Pollock, its community engagement director.

"Trails are important for recreation and socializing—being outdoors to say hello to people in your community," Pollock says.

In a 2021 AARP national survey, 62 percent of respondents age 50 and older said access to trails and paths is extremely or very important.

"Support from community members across the state certainly helped make the case for funding," says state Rep. Carey Hamilton (D-Indianapolis), one of four leadership members of the Indiana Legislative Trails Caucus, a group of legislators she formed in 2020 to advance a connected trails system.

Last year, the caucus fought to add $60 million to the $90 million already set aside for trails, Hamilton notes. The Next Level Trails program awards those dollars as grants to government and nonprofit groups that oversee trail and greenway areas.

"The caucus gets how important it is to fund not only new trails but to maintain and improve existing ones, to keep them accessible for everyone," says Angie Pool, CEO of nonprofit Cardinal Greenways, which oversees a 62- mile trail in east central Indiana.

The state's trails and greenways aren't just for hikers, advocates emphasize. They're for everyone, from kids in strollers to bicycle enthusiasts to older residents and dog walkers.

Trails conventionally prohibit motorized devices, though powered wheelchairs and, in some cases, pedal-assist electric bicycles are welcome, Pool says.

To find trails near you, go to in.gov/dnr/outdoor-recreation/trails and select Indiana Trail Finder.

Melissa Preddy is a writer living in Plymouth, Michigan.

What Is a Livable Community?
More on Livable Communities