En Espanol | After implementing some new voting rules for the June primary because of the coronavirus pandemic, Indiana officials plan to return to regular procedures for the Nov. 3 general election:

Unless the Indiana Election Commission makes further changes, voters will go back to needing an approved reason for casting an absentee ballot by mail. Being age 65 or older or having a disability qualify as valid reasons.
Early in-person voting will begin Oct. 6, helping voters avoid crowded Election Day polling places.
A new online portal for voters that makes it easy to register to vote or to request a mail-in ballot remains in place for the general election.
State officials and courts are still working out details for the general election. "We're in extraordinary times right now. We want to make sure voters are safe. If we need to make adjustments later, we will," Secretary of State Connie Lawson said at an AARP tele-town hall earlier this year.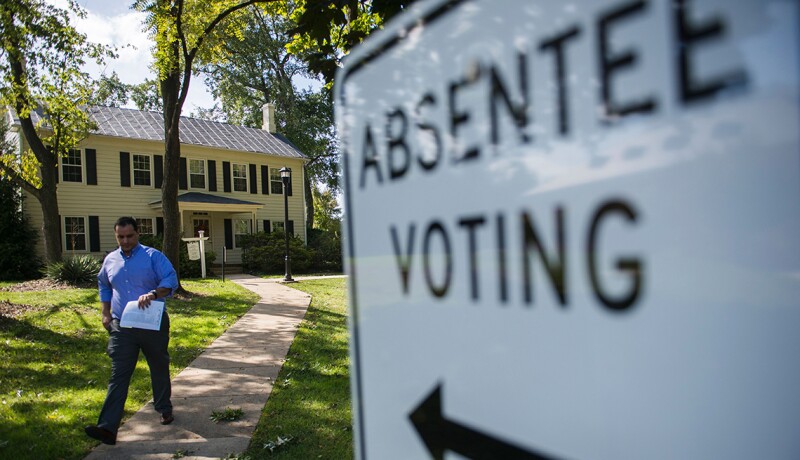 Here's what else you need to know:

How do I register to vote?

Register online using a valid Indiana driver's license or Indiana State Identification Card. You can also complete a voter registration form, available online from the state election division, and mail it in or bring it to your county's voter registration office (a list of offices is at the end of the state's absentee ballot). The deadline for registering is Oct. 5.

How can I get an absentee ballot? Are there important deadlines?

Request an absentee ballot online or through your local county elections office. The last day to request a mail-in ballot is Oct. 22. Mail-in ballots must be received by your county clerk's office by noon local time on Election Day, which is Nov. 3.

Any registered Indiana voter is eligible to vote early through so-called absentee-in-person voting — you don't need a specific reason. Simply visit your county clerk's office beginning Oct. 6.

To cast an absentee ballot by mail, meanwhile, you must have one of the state's approved list of reasons, which includes certain travel and work commitments.

How do I know my absentee ballot is secure?

The Indiana Election Commission certifies every voting system in the state, in partnership with Ball State University and its Voting System Technical Oversight Program and the Indiana University Center for Applied Cybersecurity Research. The state also implemented multifactor authentication protocols for all voters, using the online portal and the websites of the state's 92 county election offices.

When is Election Day? When are polls open?

Tuesday, Nov. 3. Polls are open from 6 a.m. to 6 p.m.

Can I vote before Election Day?

Yes. According to state law, any registered voter may vote early, in-person, with no application required. The first day to vote absentee-in-person is Oct. 6, with no excuse needed. Check with your local county elections or county clerk's office to learn the dates and times for early voting. There may be additional locations for absentee-in-person voting, beyond your county clerk's office (a list of offices is at the end of the state's absentee ballot).

What form of identification do I need to vote?

Voters need a valid Indiana driver's license, Indiana photo ID, U.S. passport or U.S. military ID. More on state ID requirements here.

What is being done to make polling places safe from coronavirus?

The state provided personal protective equipment (PPE) to all 92 counties, including masks, hand sanitizer and gloves. Several Indiana counties also changed polling site locations to accommodate social distancing. Gov. Eric Holcomb announced a statewide mask mandate for anyone age 8 or older in indoor public spaces.

Will I be able to vote in the same place as I always have?

Not necessarily. Fewer election workers and COVID-19 shutdowns of government buildings, churches, schools and other sites may have forced your county to change or combine polling places. Voters can check their polling location online or by calling their local county elections or county clerk's office (a list of offices is at the end of the state's absentee ballot).

What are the key races in my state?

U.S. President
Governor: Incumbent Eric Holcomb (R) vs. Woody Myers (D)
U.S. House: All 9 seats
Voting rules and procedures may change before Election Day. We'll update this story if they do, so bookmark this page and check back.

AARP is urging older Americans to ask the candidates 5 key questions:

Just over half of all older Social Security beneficiaries rely on the program for at least 50 percent of their income. If elected, how will you ensure that current and future Social Security benefits are not cut as part of deficit reduction?
Half of the people with traditional Medicare spend at least a sixth of their income on health care. If elected, how will you protect Medicare from benefit cuts, as well as lower health care costs and ensure seniors continue receiving the affordable health care they have earned?
COVID-19 has caused death and suffering for too many older Americans who require long-term care. If elected, how will you make sure seniors can access safe and affordable long-term care at home, as well as in facilities like nursing homes and assisted living?
Also of Interest