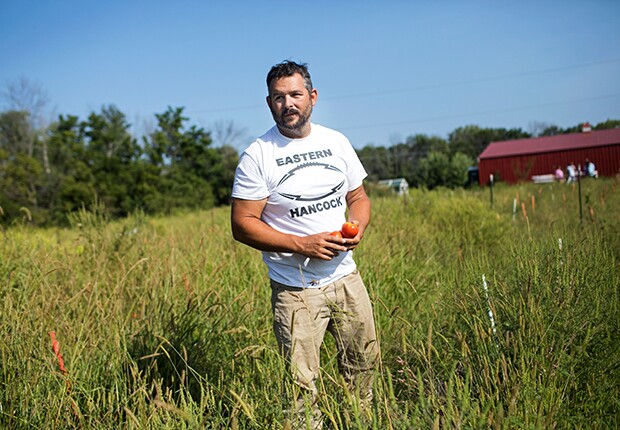 By Diana Lamirand

Jonathan Lawler is a farmer with a vision, one that harks back to a time when people pitched in to take care of neighbors in need.

That's why the owner and operator of Brandywine Creek Farms turned his 77 acres in Greenfield into a nonprofit to feed the hungry and, this year, dedicated 19 acres to growing produce specifically for older residents worried about food.

"This isn't a handout," said the 41-year-old husband and father of three boys. "We're just going back to farming the way we used to, providing for our community."

Lawler said he is guided by the New Testament message of Matthew 25:35: "For I was hungry and you gave me food."

Brandywine Creek Farms joined forces with AARP Indiana in May to plant the AARP Education Garden, a place for visitors of all ages to learn how to grow their own tomatoes, peppers and other crops. Older adults are encouraged to plant and tend the garden. They can buy produce at low cost, or receive it for free.

In Indiana 13.5 percent of low-income seniors are at risk of hunger, according to Elders at the Table, a regional coalition.

"My idea of a hungry person was a homeless person who lived under a bridge in downtown Indy. It wasn't my neighbor," Lawler said. But he found that "senior hunger is a problem."

After researching hunger in his community—from children to seniors and veterans too proud to accept free produce—Lawler decided in 2015 to split his Hancock County farm into thirds. He sells a third of the produce wholesale, another at half price to community groups and donates the remaining third.

Reaching those in need
Discounted and free produce is distributed through the farm's community partners, including Flanner House, Community Health Network and Hancock Regional Hospital.

The AARP Indiana partnership kicked off Lawler's latest program, Rolling Harvest, with two trucks delivering produce to urban and rural areas in central Indiana with limited access to fresh food.

With so many older residents living on fixed incomes and with limited transportation, Lawler hopes to reach those most in need with Rolling Harvest while still allowing them the dignity of buying their own food.

Jason Tomcsi, AARP Indiana communications director, said the partnership makes food available to vulnerable residents who need it.

"One of AARP's goals is to make our community more livable and give people the opportunity to stay in their homes and age in place. I can't think of anything more basic than access to quality, healthy food," he said.

Clyde Hall, 80, of McCordsville, said he "got my hands dirty" as one of about 15 volunteers who helped plant the AARP garden in May. The former AARP Indiana president hopes more young volunteers will get involved and maybe learn a thing or two from their elders.

"People have lost touch with where our food comes from," Hall said. "They don't see the day-to-day connection of food and the source, which is the land."

Volunteers are always needed, Lawler said, as diversified crop production is labor intensive. His family and nine farmhands work an average of 90 hours a week from mid-March to mid-November. "There are no machines that pick cucumbers or tomatoes," he said. "Those have to be done by hand."

In addition to the weekly produce distributions, Tomcsi said AARP volunteers will participate in Brandywine Creek's Oct. 28 harvest celebration. There will be free pumpkins, hayrides and produce, if any remains.

For more information, email jlawler@brandywinecreekfarms.org or call 317-246-8640. Or contact AARP Indiana at in@aarp.org or at 866-448-3618.

Diana Lamirand is a writer living in Noblesville, Ind.