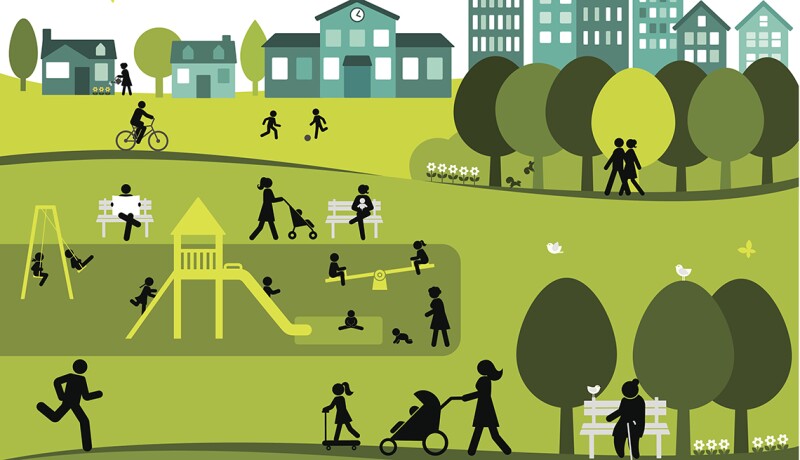 By Diana Lamirand

Shopping at the neighborhood farmers market and dining at new restaurants are a couple of things Catherine Martin, 53, enjoys about living in Fort Wayne—a place where she believes that residents of all ages can thrive.

Martin, who serves as a mentor to young mothers at her church, has called the city home for nearly 36 years and watched it grow.

"Fort Wayne is a wonderful place to raise a family," Martin observed. "We also have many activities for the aging population, whether it's through the YMCA or the parks department."

AARP Indiana is working to make Fort Wayne, as well as Indianapolis, even more livable and age-friendly, planning several community listening sessions for the coming months.

The goal: to pinpoint problems, such as a lack of public transit, and to work with local leaders to address them.

"In both communities there's a lot of urban sprawl," said Addison Pollock, AARP Indiana advocacy and outreach director. "They both could use some work when it comes to allowing people to age in their homes without relying on their car. Transportation is a huge part of this."

AARP Indiana recently commissioned a survey of more than 500 residents 45 and older in both cities, asking about issues such as transit, housing, outdoor spaces and access to
healthy foods.

A large majority of respondents said it's important to live independently in their home as they get older. And more than two-thirds cited the importance of access to nutritious foods within walking distance of home.

An assessment of a locality's needs is one of the first steps in joining AARP's Network of Age-Friendly States and Communities, Pollock said.

The program urges localities to make changes that improve older adults' well-being as the nation's population rapidly ages.

Fishers and Gary are the only two Indiana cities in the network, which includes more than 340 communities across the U.S.

"The survey helps us get a better understanding of the services, resources and infrastructure that serve older adults," Pollock said. "The results help us identify gaps and give us more information on where potential solutions might be."

Pushing communities to act
AARP Indiana conducted a similar survey of residents in 2011, said Mandla Moyo, advocacy and outreach director.

"Folks still want similar amenities in their communities, whether it's public spaces, transit or housing," Moyo said.

In both cities, Pollock said, many community development programs already promote age-friendliness and livability, but they just aren't called age-friendly. "In Fort Wayne they're making progress," he said.

The same goes for Indianapolis, Moyo said. "There are great neighborhoods that have access to transit, housing, public spaces, all of those things—and there are neighborhoods that don't.
"We would challenge the city to be more proactive so that all neighborhoods are making gains."

To find out more about the AARP Network of Age-Friendly States and Communities, go to aarp.org/livable.

Diana Lamirand is a writer living in Noblesville, Ind.