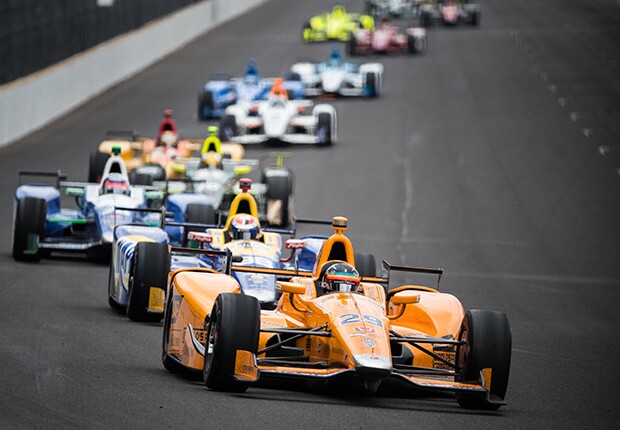 By Jenny Elig
On the last Sunday of May, Karen Dalton will don a vibrant yellow shirt, black pants and a white hat and head to the Indianapolis Motor Speedway. On that day, and almost daily during the spring and summer, she'll log long hours as a member of the Speedway's Safety Patrol.
It's a family tradition for Dalton, 68, of Greenwood. She first tagged along to the track as a 5-year-old, accompanying her father, Cloyd Thompson. Thompson would put in more than 60 years of service on the Safety Patrol, a team that, for more than 70 years, has been an essential part of IMS event operations.
During events, Safety Patrol members—also known as the yellow shirts, for the sunny, visible hue they wear—will be the first and last touch points for Speedway guests. About half of the 700 race-day Safety Patrol staff are retired, said Kirk Dooley, director of operations.
If the race-day operations were an engine, the Safety Patrol would be the lubricant, ensuring that "all of the parts work together," said member Steve Somermeyer, 71, of Danville.
With 48 years on the Safety Patrol, Somermeyer brings plenty of institutional knowledge. In 1971, after seeing the race in person, he was snared. He secured a weekend-only gig in the pits.
Initially, Somermeyer was most interested the cars; now, he enjoys the human dynamic. "Lives and careers change in a matter of seconds out there," he said.
Safety Patrol members' roles span the Speedway's nearly 1,000 acres of real estate, beginning with the outer parking lots and including:

Stands and mounds: Providing hospitality and customer service while verifying tickets.
Gates: Greeting guests on arrival and checking bags and coolers.
Suites and hospitality: Checking guests' tickets and providing service to hospitality suites.
Garage and pits: Providing hospitality in the plaza area as well as security on the pit lane and in the garage.
Traffic: Directing and supervising parking of all infield, employee and credentialed vehicles.
As a coordinator for the garage, Dalton ensures that the area is safe. After she retired as an executive assistant at Citizens Gas 10 years ago, she and her father carpooled to the track. During Indy 500 events, she serves as the right-hand woman to Ken Lemmon, 61, the ground coordinator for the garage and the pits.
Lemmon, of Clinton, Ohio, retired 12 years ago from a career in middle management for transit. His wife, Pam, 60, then resigned from her position at a youth shelter in Akron. They saw the Safety Patrol in action during a trip.
"We thought, Wow, that would be an exciting thing for us to do in our retirement," Ken said.
The couple travel the country, sometimes in their recreational vehicle, making stops to work at other tracks. Ken coordinates with Speedway staff and management for race events and other promoters for other events.
Pam heads to the grounds' Pagoda—a 10-floor structure that's the tallest building on the west side of Indianapolis—where she serves as the liaison for the garage and the pits.
On race day, they will rise at 2:30 a.m. and arrive at the grounds by 4 a.m. "The track is so serene in the morning, and you just watch it evolve into a blooming flower and come alive," Ken said.
Safety Patrol members are paid employees; however, at $8 an hour, they're not at the track to get rich. "Oftentimes these are long, demanding days," Dooley said.
Dalton's days at the track are, in part, a memorial to her father, who died in 2014. She recently recruited her sister. They work all events on the Speedway's growing calendar, including the Brickyard 400 and the Red Bull Air Race.
The track's nearly 109-year history still gives Dalton goosebumps. "I feel like I'm a part of it," she said.
Jenny Elig is a writer and editor living in Bloomington, Ind.