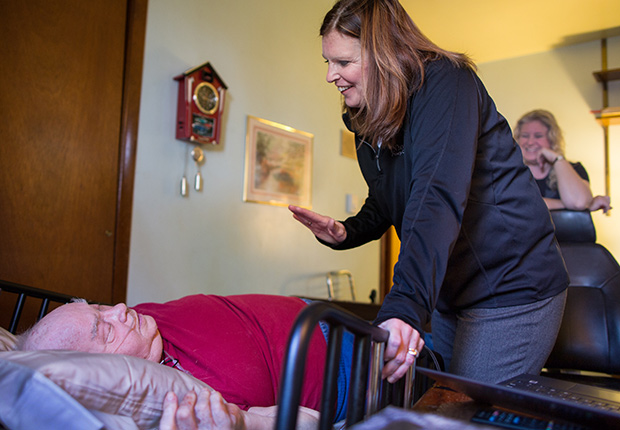 By Diana Lamirand

For the past decade, Laura Snider has operated INhouse Primary Care, a family practice group of eight nurse practitioners who make house calls to about 1,000 patients across Indiana.

All are licensed in advanced practice with 10-plus years of experience, treating patients for issues such as diabetes, heart failure and dementia.

"We make sure they have food, they're living in a clean place, and they have somebody taking care of them if they need it," Snider said.

Her team of advanced practice registered nurses (APRNs) not only provide health care, but also coordinate home care to make sure conditions are conducive to healing.

State law requires an APRN with prescriptive authority to enter a collaborative agreement with a licensed physician, who reviews 5 percent of the nurse's charts each month. Snider contends the mandate is not needed.

Legislation to end the requirement is supported by AARP Indiana and was introduced in the last state legislative session by Rep. Cindy Kirchhofer (R-Beech Grove). It died, but a similar measure may be introduced in the next session, starting Jan. 8.

Snider said INhouse Primary Care pays a local physician about $13,000 a year for a collaborative agreement with the APRNs.

Snider has a good working relationship with that doctor, but views the arrangement as unnecessary for her experienced nurses.
"We rarely collaborate directly with him any longer," she said. "I don't think it needs to continue."

Kirchhofer said the law can limit where nurse practitioners serve, leaving some rural areas underserved: "With the shortage of providers and access problems, any barrier you can remove that gets the patient in touch with a proper health care provider is a good thing to do."

The need to give Hoosiers more access to quality care is critical, said Ambre Marr, AARP Indiana state legislative director. Data from the Henry J. Kaiser Family Foundation shows Indiana needs to increase its primary care workforce by nearly 28 percent to meet the current demand.

"We're in an extreme shortage, and that's why we need to start really homing in on this issue," Marr said, adding that restricting access to care places added stress on family caregivers.

Differences in training
The Indiana Academy of Family Physicians is not opposed to discontinuing the 5 percent chart audits, said board member Richard Feldman, M.D.

The academy, however, still questions the level of training and clinical experience that nurse practitioners have compared to a family physician.

"I think there needs to be some oversight, and the best oversight is working shoulder to shoulder," said Feldman, who has trained family physicians for 36 years. "Just as a medical student is not prepared to go out into the world, I don't think a nurse practitioner is either."

He said physicians may be open to discussions about what APRNs want and to a less restrictive relationship, under certain conditions.

Snider, who worked 10 years as an intensive care and emergency room nurse, agrees that inexperienced nurse practitioners (NPs) benefit from working with an experienced professional.

"I don't think it has to be a physician. I think if it's next to an experienced nurse practitioner, that's a completely appropriate level of internship or training," she said.

Diana Lamirand is a writer living in Noblesville, Ind.