FOR IMMEDIATE RELEASE
January 11, 2022
CONTACT: Jason Tomcsi, jtomcsi@aarp.org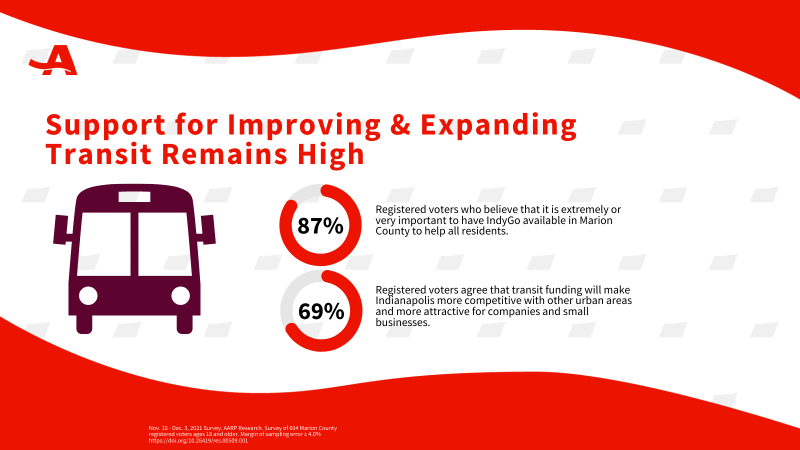 INDIANAPOLIS – In 2016, Marion County voters approved a referendum that paved the way for the expansion of bus rapid transit in Indianapolis. A recent AARP survey finds that the county's registered voters continue to staunchly support transit expansion, as well as the city's public transportation agency, IndyGo.

The survey comes at a time when legislators at the Statehouse are considering legislation that would jeopardize the future development and funding of IndyGo's rapid transit Blue Line.

"The voters of Marion County decided more than five years ago that properly funding transit was a priority for Indianapolis," said Sarah Waddle, AARP Indiana State Director. "This survey shows that they remain committed to that choice and want to see progress move forward with more rapid-transit bus lines and expanded service."

The survey of registered Marion County voters 18-plus was conducted from November 16, through December 3, 2021. In the survey, 63 percent of Marion County registered voters oppose legislation that would limit IndyGo's expansion with most voicing strong opposition.

Registered voters also showed enormous support for the wide-ranging set of infrastructure improvements that go hand in hand with the expansion of bus rapid transit. Nearly 90 percent support installing or rebuilding sidewalks, crosswalks, and bus stops while 74 percent support rebuilding and restructuring streets to include dedicated bus lanes and level-boarding stops.

"Support for IndyGo and bus rapid transit is far beyond anecdotal," Waddle said. "Registered voters are clearly saying that IndyGo is moving in the right direction and that bus rapid transit is a valued service."

For more perspective and a helpful infographic, visit our blog.

Other key findings from the survey:


69 percent of Marion County registered voters agree that the 2016 referendum to improve and expand IndyGo will provide more and better public transit options, making Indianapolis more competitive with other urban areas and more attractive for companies and small businesses. ​
87 percent of Marion County registered voters ages 18-plus believe that it is extremely or very important to have IndyGo available in Marion County.
47 percent of Marion County registered voters ages 18-plus are less likely to vote for a candidate for a state or local office in Indiana who supported limiting the improvement and expansion of IndyGo in Marion County.
52 percent of Marion County registered voters ages 18-plus would be more likely to vote for a candidate for a state or local office in Indiana who supports improving and expanding IndyGo in Marion County.
To learn more about the survey and why public transportation is critical to Indianapolis and Central Indiana, visit aarp.org/IN.

###

About AARP Indiana

AARP is the nation's largest nonprofit, nonpartisan organization dedicated to empowering people 50 and older to choose how they live as they age. With a nationwide presence and nearly 38 million members, AARP strengthens communities and advocates for what matters most to families: health security, financial stability and personal fulfillment. The Indiana office has been involved in issues affecting Hoosiers ages 50+, including providing more assistance for family caregivers, encouraging retirement savings, and encouraging local leaders to make their communities more livable. To learn more visit www.aarp.org/in or follow @aarpindiana on Twitter and Facebook.