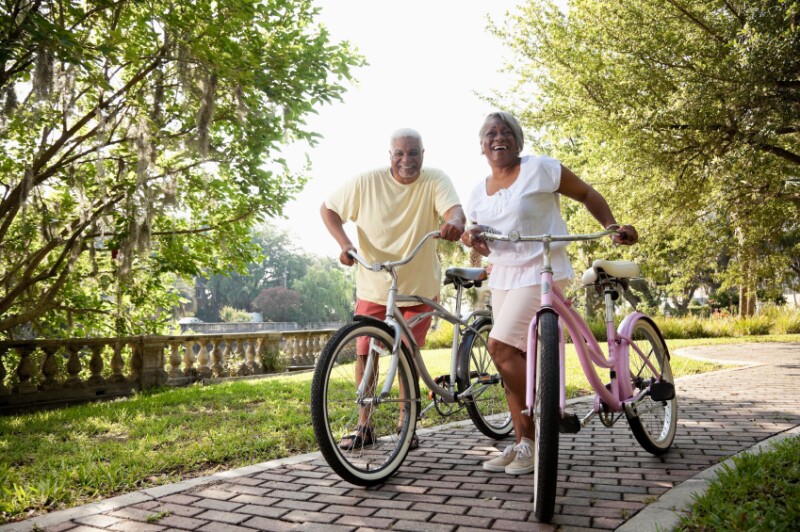 AARP's Livable Communities Council, the Center for Planning Excellence and the Lt. Governor's Office announced today that Abita Springs Friends of the Park, the ReFresh Project, and the Young Leadership Council's Where Ya' Rack? are this year's winners of Great Places in Louisiana.

"This year's winners have tackled old problems with new, creative approaches that set them apart. Each winner has successfully linked development and redevelopment with healthy, active living and have renewed the social benefits of the Louisiana outdoors," said Denise Bottcher, interim State Director, AARP Louisiana. "Well-designed livable communities promote better health and sustain economic growth, and they make for happier, healthier residents—of every age, in all life stages."

Great Places in Louisiana, now in its fifth year, is awarded annually to the individuals, organizations or local governments that have excelled in creating places where diverse people of all ages and abilities can live and thrive. Great Places are livable communities where everyone has access to affordable and appropriate housing, adequate mobility options, and supportive community features.

"At the heart of a livable community is a great space where neighbors can socially and actively connect with others, and participate in the health and wellness of the community. Unique to the winners this year is the strong volunteer component that brought the projects to fruition and sustains theirgrowth and vitality," said Elizabeth "Boo" Thomas, President and CEO, Center for Planning Excellence.

"Nearly ten years after hurricanes Katrina and Rita, communities are still recovering and rebuilding. It's exciting to see that innovative planning and development have sparked the transformation of communities and have inspired a whole new volunteer workforce," said Lt. Governor Jay Dardenne.

A panel of seven judges from across the nation, each with a unique set of knowledge and expertise, pored over the nominations to select the three winners. The judges evaluated nominations based on several criteria including livability, sustainability, ability to serve traditionally underserved populations and long and short term benefits.

Announced at a reception during the Louisiana Smart Growth Summit in Baton Rouge, the winners received a $1,500 award for their work.

The 2014 Great Places in Louisiana

Abita Springs Friends of the Park

The long-forgotten Abita Tourist Park was severely impacted by Hurricanes Katrina and Rita in 2005, along with the surrounding forest area.
A group of volunteers founded Friends of the Park in 2007 to rebuild and reforest the Abita Springs Trailhead and Park. They raised over $150,000 for the project.
In June 2008, 350 volunteers worked for six days to install a new 16,000-square-foot playground featuring murals from local artists.
In addition to the playground, the Trailhead and Park now features an historic Pavilion, paved and natural trails, picnic areas, an amphitheater and the Abita Springs Trailhead Museum, among other features. The Abita Springs Trailhead and Park is now a social center of life for the residents of Abita Springs, hosting concerts, festivals and a weekly farmer's market in addition to regular park and trail usage.


ReFresh Project

The Treme and Mid-City areas of New Orleans have extremely high rates of poverty and obesity, with a marked lack of access to affordable, fresh, healthy food and a lack of job opportunities.
The ReFresh Project transformed a 60,000-square-foot former grocery store in a collaborative effort to improve community health and provide education, supportive services, jobs and economic opportunities to the community.
The new programs include a Whole Foods Market; Liberty's Kitchen, which works with at-risk youths and will provide prepared food for Whole Foods; and the Goldring Center for Culinary Medicine at Tulane University, a teaching kitchen that will provide Whole Foods shoppers with tours and tips for making healthy choices, as well as the opportunity to take cooking classes.
The project also includes indoor and outdoor community spaces, a community farm, and office space for FirstLine Schools, Boys Town, Crescent City Community Land Trust and Broad Community Connections.


Young Leadership Council: Where Ya' Rack?

The Where Ya' Rack? project provides safe and secure bicycle parking across New Orleans to promote cycling as a means of transportation.
This project supports New Orleans Complete Streets policy by installing bicycle racks and corrals.
Twelve bicycles can fit in the space it would take to park one car, opening up more parking spots and decreasing traffic congestion for people who must drive.
Encouraging cycling by providing parking promotes an active, healthy lifestyle and reduces carbon emissions. Cyclists, as well as pedestrians, frequent local business more often than drivers.
To date, Where Ya' Rack? has installed more than 335 bicycle racks and corrals, and will provide 72 schools across New Orleans with bicycle racks and bicycle safety education. Where Ya' Rack? has completed the installations at 12 of those 72 schools.