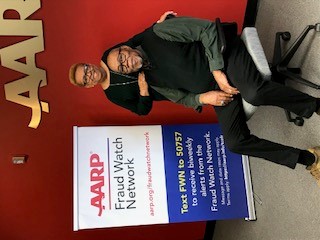 "After our church and family, AARP is #2." That statement from Natalie Mason tells you how much she and her husband, Alfred, give to AARP, and why they merit selection as the first volunteers to be featured in this new column.

In fact, when asked which one spurred the other to become involved in AARP, Alfred stated, "When you get one of us, normally you get both of us." That partnership has served them well since the 1950's, when they met as 14-year-olds at a church after Alfred, a native of Jackson, Mississippi moved to New Orleans. Their friendship changed their junior year of high school when, as Alfred confesses, "All of a sudden I saw her differently." They celebrate 63 years of marriage in March and are proud parents of two daughters. Both Alfred and Natalie are only children themselves.

The Masons lived in New Orleans until Hurricane Katrina forced evacuation to Longview, Texas, where they stayed for eight months. Their younger daughter still lives there and is employed by Wiley College while working on her doctorate. Their older daughter, a retired teacher, relocated from Longview to Hammond on the Northshore.

When Alfred and Natalie returned to Louisiana in early 2006, they settled in Darrow, a community near Gonzales and Donaldsonville. This is when their involvement in AARP began. After retiring in the summer of 2005, Alfred from 26 years at a major check printing company, and Natalie after 30 years with the postal service, they had intended to join an AARP chapter in New Orleans. Of course, Katrina thwarted that plan. Their involvement was delayed until 2008 when, along with several neighbors in Darrow who had also been uprooted from New Orleans, started a chapter in Gonzales. Natalie served as the inaugural president, with Alfred installed as legislative chairperson. He succeeded her as president and, in 2020, completed his second term. However, the pandemic prevented an election for his successor until sometime this year.

Under Alfred and Natalie's leadership, the Gonzales chapter became active, taking on a range of issues, including social security, payday lending, and cameras in nursing homes, as well as allying with national advocacy efforts. While representing the Gonzales chapter, both were asked to "help out" in the state AARP office in Baton Rouge. They are familiar faces around our state Capitol.

More recently, Alfred and Natalie's work in AARP's Fraud Watch Network has helped strengthened its mission, with both trained as presenters in the Speakers Bureau and volunteers for follow-up to callers to the Fraud Watch hot line.

Over the years, Alfred and Natalie have made the Gonzales chapter achieve a rare milestone: a waiting list. This is partly due to the meeting location, which can only accommodate 75 attendees. Both Alfred and Natalie refuse credit for the popularity of the chapter, saying, "Let's see how it goes when we are not in leadership roles."

The level of responsibility in managing people and finances during their careers prepared Alfred and Natalie for their work in AARP. Specifically, they noted experience in working with people, dealing with issues and performing community outreach served as a foundation for what they do for AARP.

Although Natalie is the "techie" of the couple, Alfred says he is oldest person he knows who has a PlayStation. That said, he prefers old school telephone conversations to Facebook and other social media. Natalie enjoys iPad games, "anything on the computer," and is a go-to person in AARP for setting up Zoom meetings.

They both love family gatherings, especially cooking and eating, with their daughters and sons-in-law. Alfred takes over the kitchen on Sundays to grill pancakes. He admits to experimenting with ingredients such as eggnog and pureed pumpkin, with a family joke that, if he opened a restaurant, customers had better be ready for pancakes, and only pancakes. Annual cruises also rate high on their list of fun things to do, with Alfred professing he could go to Aruba and never come back.

As if all of the activities Alfred and Natalie perform and organize were not enough, they are ambassadors for AARP volunteering, not only at their church and among their friends, but their own daughter in Hammond is one of their recruits. As busy as Alfred and Natalie are, part of the reason for their daughter's involvement has to be so she can see them more often!