BATON ROUGE, La. – November marks National Family Caregivers Month, a time to recognize the 40 million Americans – including 660,000 from Louisiana – who help older parents, spouses, and other loved ones live independently at home, where they want to be. The unpaid care they provide – managing medications, cooking meals, driving to appointments, performing complex medical tasks and more – is valued at about $6.47 billion in Louisiana alone.

Britnee from Shreveport is one of these unsung heroes. She says, "The journey is definitely not easy, but it's been an honor to take care of the man who's been so great to me."

AARP Louisiana will recognize Britnee with a Portrait of Care, an artist's painting of her and her father. Randomly selected through AARP's storytelling initiative, I Heart Caregivers (aarp.org/iheartcaregivers), Britnee is one of 53 family caregivers from every state, Washington D.C., Puerto Rico and the U.S. Virgin Islands receiving a hand-painted portrait. Thousands have shared their stories on the site.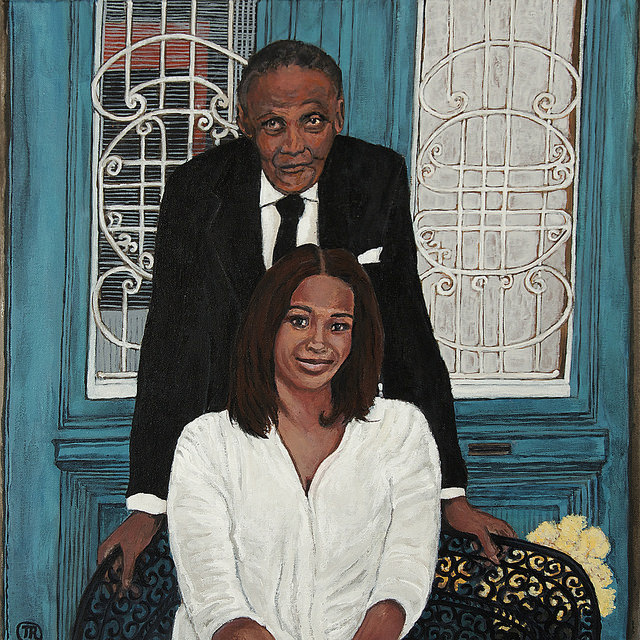 "We want to celebrate family caregivers, spotlight their experiences of hope, love, dedication and perseverance, and elevate their stories – especially during National Family Caregivers Month," said Denise Bottcher, interim state director of AARP Louisiana, which serves tens of thousands of Louisianans age 50 and older. "This is especially important as we work to support family caregivers through public policy, education, outreach and more."
Part of the sandwich generation, at age 30, Britnee raises her 2-year-old son and cares for her father, Percy Sr., a World War II veteran who has Alzheimer's disease. She works full time in 12-hour shifts as a chemist and has earned sick leave, but can't use it to take Percy Sr. to the doctor. Britnee spoke earlier this year at the White House Conference on Aging on a Caregivers Panel, where she shared her story of working hard to balance caring for her father and her son while supporting her family by working full-time.

Supporting Family Caregivers
"Family caregivers are the backbone of our care system, serving a crucial role in helping older Louisianans and other loved ones remain in their own homes and communities," Bottcher continued. "That's why AARP is proposing commonsense solutions to help make their big responsibilities a little bit easier, including supporting Bayou Choices, the reform of Louisiana's long term supports and services system and also the push to bring health coverage to thousands of Louisiana residents between the ages of 50 and 64 who cannot currently get it through Medicaid."

Recent AARP surveys show that 90 percent of Louisianans want to remain in their homes and communities for as long as they can with support from family and friends. But over 70 percent of health care funding goes toward institutional care as opposed to the home and community based services that people need. Additionally, AARP Louisiana is advocating for health coverage to 64,000 uninsured Louisiana residents between the ages of 50 and 64 who cannot get Medicaid because Louisiana has refused to expand the program.

"Every day, AARP Louisiana and its volunteers go to work at the state capitol to make this kind of support a reality "because supporting family caregivers is a priority for all of us. It isn't a partisan issue. It's a family issue." said Andrew Muhl, director of advocacy for AARP Louisiana.

As the 2016 state legislative session approaches, AARP is gearing up to work:

for the Caregiver Advise, Record, Enable – Family Caregiving Act This will support family caregivers when their loved ones go into the hospital, and provide training on medical tasks they will need to perform once their loved one returns home.
to make sure caregivers have access to the right resources in the community, like home care and adult day care.
To help family caregivers navigate financial challenges by making sure power of attorney and adult guardianship laws are consistent and honored from state to state.
To find out more about AARP Louisiana's work, visit aarp.org/Louisiana. To read family caregivers' stories from Louisiana, visit aarp.org/iheartcaregivers.