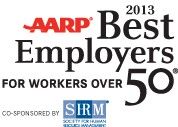 Ochsner Health System, based in New Orleans, is being honored by AARP and the Society for Human Resource Management as one of the 2013 Best Employers for Workers Over 50.

Ochsner joins a diverse group of health systems, corporations, government agencies, and non-profits on the list, announced today by AARP and SHRM.

"AARP improves opportunities for older workers by spotlighting employers that have implemented programs that help retain, retrain, engage and recruit mature workers," said Nancy McPherson, State Director, AARP Louisiana. "Ochsner knows that recruiting and retaining 50-plus workers is smart business."

Thirty-two percent of Ochsner employees are 50+. Ochsner promotes part-time opportunities to mature workers who like to work but don't want the commitment of a full-time position. The health care system also offers individual and family medical coverage to employees working 4+ hours a week.

"We are truly honored to be recognized as one of the nation's top employers for older workers," said Joan Mollohan, senior vice president of human resources, Ochsner Health System. "This AARP award affirms that employees of all ages thrive in a supportive, loyal work environment in which career development and personal growth is valued. Ochsner is proud to be such a place."

National Institutes of Health (NIH), one of the world's premiere medical research institutions, gained top honors in the 2013 search. Scripps Health of Southern California, which headed the list in 2011, is runner-up this year.

Announcement of the top 50 came jointly by AARP and SHRM, which is cosponsoring the Best Employers program for the first time. SHRM is the world's largest association devoted to human resource management. The winners will be honored tonight (June 17) at the SHRM annual conference in Chicago.

"Every organization needs to view its older workers as highly valuable assets and develop strategies to keep this enormous wealth of talent," said SHRM President and CEO Henry G. (Hank) Jackson. "It's absolutely critical for organizations to embrace new ways to retain older workers, especially in the face of the coming wave of Boomer retirements."

Any U.S.-based employer with at least 50 employees is eligible to apply for the Best Employers award. Candidates are vetted to ensure that practices meet the needs of mature workers. Key areas of consideration include: recruiting practices; opportunities for training, education and career development; workplace accommodations; alternative work options, such as flexible scheduling, job sharing and phased retirement; employee health and retirement benefits, and retiree work opportunities.

The top Best Employers this year will be profiled in the August-September issue of AARP The Magazine. Accompanying that salute will be a feature article that explores the strengths of older workers.

For a full list and for more information on the 2013 Best Employers, please go to www.aarp.org/bestemployers, which includes background on employers' workforce practices and a description of the selection process. For more information on AARP's resources for older workers, visit www.aarp.org/workresources.

AARP and SHRM have collaborated since 2010, working together to raise awareness on older worker issues and to provide resources and strategies to address these issues. SHRM's co-sponsorship of the 2013 Best Employers award is one of several joint projects that are documented on the SHRM-AARP web page at www.shrm.org/aarp.