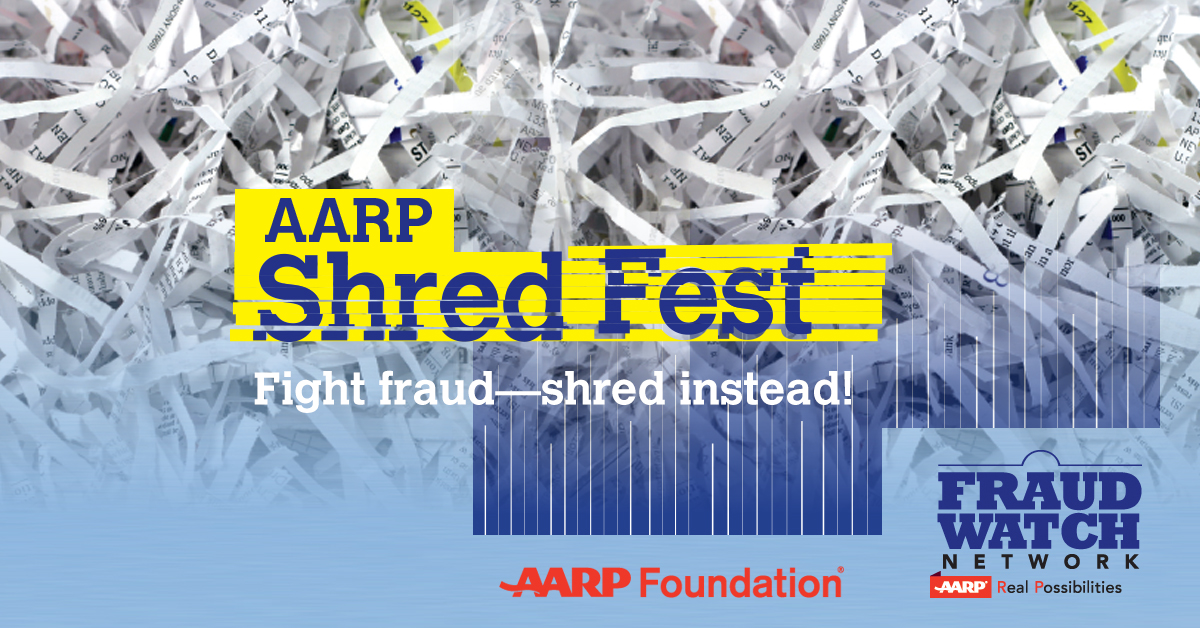 Shred Fest is a free event sponsored by AARP's Fraud Watch Network for individuals who want to safely discard personal information so that they can protect themselves from identity theft. This local event is one of dozens scheduled nationwide to provide secure document destruction.

As part of its ongoing efforts to help consumers avoid falling victim to identity theft, AARP Louisiana is joining with the City of St Martinville Recreation Center to sponsor " Shred Fest 2016" – an event to provide free shredding of personal financial documents and other sensitive records.

"Financial fraud causes millions of dollars in losses each year," said Dr. LC Thomas, the lead of AARP's Fraud Watch Network Louisiana. "With the tax-filing season almost behind us, we're encouraging taxpayers to do a spring cleaning of their old financial documents and other records."

The Shred Fest will be held on Thursday, April 14th, at the St Martinville Rec Center. The event is spearheaded by the large and active St Martin Parish AARP chapter. Residents are encouraged to bring a box or bag of documents containing sensitive information that they would like to safely discard at a free, secure shredding site. AARP will have shredding trucks at the St. Martinville Rec Center beginning at 4 pm shredding documents until 6pm. Five medium sized bags or boxes are permitted per vehicle. This event is not open to companies.

The details:

WHO: AARP Fraud Watch Network

WHAT: Shred Fest 2016

WHEN: Thursday, April 14th

4:00 p.m to 6:00 p.m.

WHERE: St. Martinville Rec Center
100 Northside Dr, St Martinville, LA 70582


In 2015 Louisiana residents registered 35,409 complaints about Fraud and identity theft with the Federal Trade Commission.

"Identity thieves routinely search through dumpsters and trash cans, looking to find confidential information. Our Shred Fest 2016 event will allow consumers to discard this paperwork in a safe and secure manner," said Denise Bottcher, Louisiana State Director, AARP.

To avoid having your sensitive information compromised, security experts recommend shredding of the following types of materials:

Old documents: Papers that carry your Social Security number, birth date, signature, account numbers, passwords or PIN numbers.
Banking: Canceled or unused checks. Shred deposit slips and ATM and credit card receipts, once you receive your monthly statements.
Credit Cards: Preapproved credit card applications and incentive/gift checks from credit card companies.
Medical: unneeded medical bills.
Investments: Investment account statements.
Obsolete ID cards: Expired driver's licenses, medical insurance cards and passports
And for those consumers who use a home shredder, experts also recommend the use of a micro-cut model. Tests have shown that the scraps of paper from a straight or cross-cut shredder can be reassembled by identity thieves. With a micro-cut shredder, the paper is rendered into impossible-to-reassemble debris.

The St Martinville event is one of dozens of Shred Fest 2016 events scheduled for communities nationwide, during Money Smart Week® April 23-30, with support from the AARP Fraud Watch Network and the AARP Foundation.

Shred Fest 2016 events are being held in at least 37 states next week. Residents of other communities who wish to take advantage of a Shred Fest event may refer to online schedule.

More information on how to keep yourself safe from identity theft fraud, and alerts regarding other types of scams, is available from the Fraud Watch Network at www.aarp.org/FraudWatchNetwork.