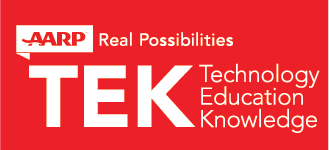 Join AARP TEK (Technology, Education, Knowledge) for community-based, free, hands-on workshops, and learn to get the most out of your tablet devices.

Each participant gets a hands-on experience during the workshop with an Apple iPad™ Tablet, and will receive a free touchscreen stylus pen. iPad is a trademark of Apple, Inc.

These AARP events are fun and free, but seating is limited and registration is required. Three different sessions are offered; please register below for the workshops that most pique your interest!





AARP TEK Tablet Workshops
All three workshops take place on Thursday, July 21, 2016, and will be held at the Holiday Inn Boston-Brookline, 1200 Beacon St., Brookline, MA 02446.
Books, News, and Music – iPad: Intermediate Workshop
Take your daily news, digital book collection, and favorite songs with you, wherever you go. Explore having fun with digital media on smartphones in this hands-on workshop.

WHEN: 12:30-1:30 p.m. Register here



Beyond the Basics – iPad: Intermediate Workshop
So you have the essentials down, but you're ready to take things to the next level. Join us and learn tips and tricks like how to share your location with friends, control your tablet with your voice, edit photos and more! Tablet experience recommended.

WHEN: 2:30-3:30 p.m. Register here



Staying Safe Online: Tablet Beginner Workshop
If you want to ensure that you're doing what you can to be SAFE online, then this course is for you. This hands-on tablet workshop will cover ways to identify and avoid some of the most common online scams.

WHEN: 4:30-5:30 p.m. Register here



For questions about these AARP TEK events, call 866-740-6947 or email aarptek@aarp.org.