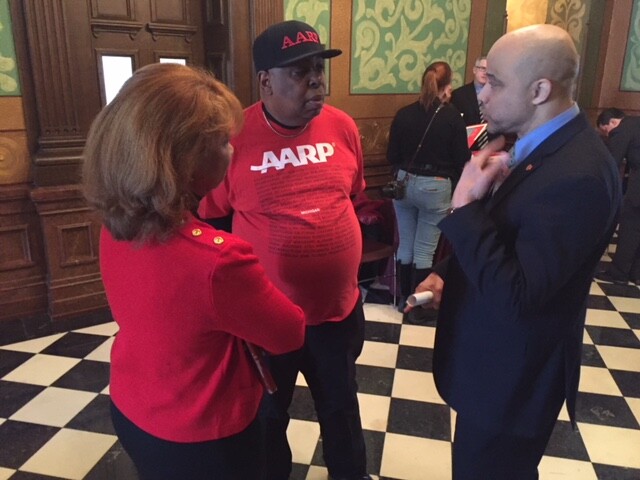 AARP Michigan volunteers and staff shared sandwiches, veggies and policy talk with dozens of state lawmakers and their aides at this year's Legislative Luncheon and Lobby Day on Feb. 13 at the State Capitol Building.

Between legislators and their staffs in attendance, 45 of Michigan's 110 House districts were represented and 19 of the state's 38 Senate districts were represented at AARP Michigan Lobby Day, including 45 lawmakers from both major parties.

Legislators met with 34 red-clad volunteers, who specifically sought out elected officials from their home districts.

AARP Michigan unveiled its 2018 policy agenda during the event, which sprawled across two marble-floored hallways on the First Floor of the Capitol.

"It was a very successful Legislative Luncheon," said Paula D. Cunningham, AARP Michigan State Director. "Attendance was phenomenal and both legislators and their staff showed up, stayed, interacted and knew that AARP was 'in the house.' The volunteers were awesome and well informed."

Much of the discussion with lawmakers focused on three issues:

Access to Telehealth: AARP supports bills that would facilitate the use of telehealth to help people access health care in new ways and make it easier for family caregivers to care for their loved ones. House Bills 4066 and 4067 would include Michigan in the Interstate Medical Licensure Compact.
Home Accessibility Tax Credit: Senate Bill 184 would provide a state income tax credit of up to $5,000 to adults with disabilities or their family caregivers to renovate their home to make it more accessible.
Home- and Community-Based Services: Support for funding in the annual state Health & Human Services budget for services that help more older adults in Michigan live safely and independently in their homes as they age.
See the full state legislative agenda here: 2018 MI State Legislative Agenda