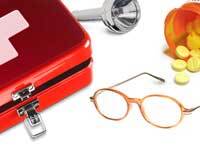 When disasters strike, it's important for people of all ages to have a plan of action.

But for older Americans, there can be different factors to keep in mind when responding to an emergency.

"As people age, their needs change and their capabilities change," says Vivian Vasallo, vice president of housing for AARP Foundation, which produced this video with Ready.gov. "So in preparing for a disaster, it's important to think differently than you might have at earlier ages."

Here's what you need to do:

1. Identify the risks in the area where you live
Is your region prone to hurricanes, earthquakes, tornadoes, blizzards, floods, heat waves, drought or other natural disasters? Is your area a likely target of a terrorist attack? You'll need different plans for different situations.

2. Make a plan
Have a family emergency plan in place ahead of time. Use the family emergency plan form on Ready.gov (PDF) to record contact information, Social Security numbers, medications, health conditions and health insurance information for all family members.

In Case of an Emergency ...
3. Create a support network
This is an especially important step for people with special needs. Your support network can include family, friends, neighbors, doctors, organizations or places where you worship. Make sure the people in your network know what your needs are in case of a disaster and are aware of which medicines you take and any physical limitations you may have. Your network should include both local and out-of-area contacts, and it's a good idea to become familiar with text messaging from your mobile phone or device. If phone lines are jammed and landline and cellphone calls are not possible after a disaster, texting gives you another option.

4. Prepare an emergency kit
Include enough water and nonperishable food to sustain each person for three days. Make sure you have medicines to last at least a week, and extra glasses, hearing aids and hearing aid batteries. If you can't obtain an emergency supply, be sure to fill your prescriptions on the first day you're eligible for a refill, rather than waiting for them to run out. Keep hard copies of documents such as birth certificates, insurance policies, Medicare cards and financial forms in your kit. You could also keep digital copies of your documents on a portable flash drive in the kit. Get the full list of supplies by downloading this instruction sheet from ready.gov

5. Ensure you're in compliance with Social Security's electronic payments policy
A new law went into effect March 1, 2013, requiring electronic payments. However, some people still haven't signed up yet, according to the U.S. Department of the Treasury. To make the switch, call 1-800-333-1795 or visit godirect.org.