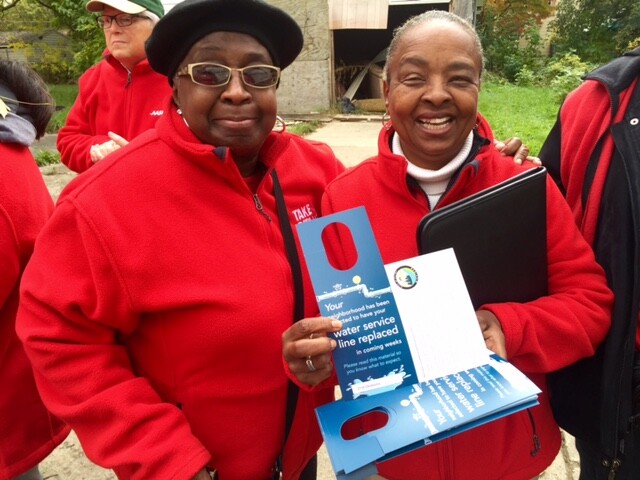 AARP Michigan is helping Flint rebuild from the water crisis. AARP volunteers last fall visited more than 500 homes in city neighborhoods to get consent forms signed so water service lines can be replaced.
Red-garbed AARP volunteers and staff will pick up where they left off in Flint starting today, and into May. The goal this year is to knock on doors at 6,000 homes.
"We are back in Flint neighborhoods going door to door to collect consent forms that must be signed for residents to get their lead pipes replaced between the street and their homes," said AARP Michigan State Director Paula D. Cunningham.
"Also, watch for letters that ask you to sign and return the permission cards by mail. Remember, you need to get your pipes replaced even if your water has tested okay."
Volunteers will be back out in the neighborhoods on Saturday, April 29. Triumph Church, located at 1657 Broadway Blvd., will host the volunteer effort in May. For information about volunteering in Flint, contact Kimberley Bishop at kabishop@aarp.org or 517-267-8914.
Those who have had their lines replaced should keep in mind these next steps: Remember to flush pipes for 15 minutes afterwards to remove any residue or sediment. Remove the faucet aerator before flushing pipes, and then replace it. Also, turn off the filter while flushing the pipes, and then turn it back on.
AARP conducted a survey last year of older Flint residents, which revealed that many feel pipe replacement is the biggest priority in addressing the water crisis. Mayor Karen Weaver announced that homes will receive new water pipes through the FAST Start Initiative.
AARP is making a long-term commitment to continue outreach to residents when it comes to pipe replacement and other water-related issues, Cunningham said.
"It will really help if folks will greet the volunteers at their doors and sign those forms," she said.
For more information on pipe replacement, visit www.cityofflint.com