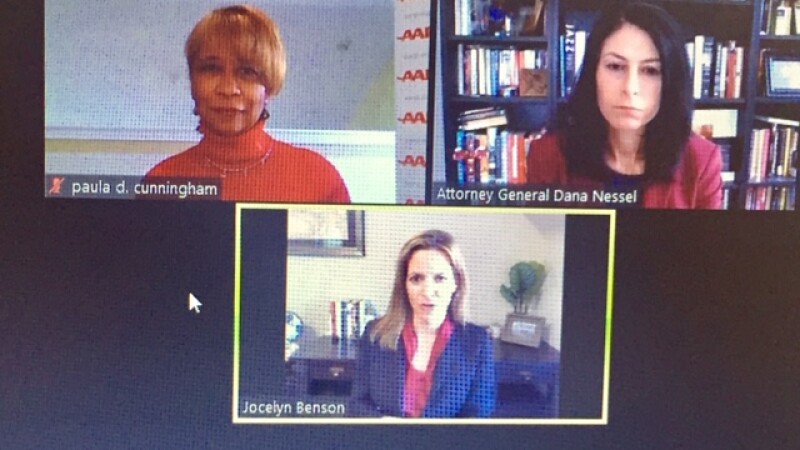 AARP Michigan hosted Secretary of State Jocelyn Benson and Attorney General Dana Nessel in a telephone town hall and for interviews during the recording of its Real Possibilities TV Show on Friday.

The two top state officials fielded a wide array of questions on voting safely in Michigan in person Nov. 3 or by mail ahead of that date.

"We are ready for November and voters should be confident of that," Benson remarked. "Our election will be a full and accurate reflection of the vote of the people."

Added Nessel: "No matter what way you choose to vote this year, you will be safe. There is not going to be any kind of chicanery, where you need to be worried about the results of the election."

Among the questions answered during the two public information events:

If you are mailing your ballot, when should you send it?

"We recommend that absentee ballots be mailed by Oct. 19," Benson said.

How big of an issue is voter fraud in this election?

"It rarely, rarely happens," Nessel said, adding that protocols are in place to ensure that "if anyone did commit voter fraud, they would be caught."

She said misinformation about the security of absentee ballots and other voting issues is much more common.

"Tune out the noise," Nessel said. "People are doing that for only one reason – they don't want you to vote."

When will all of the ballots be counted?

By law, local clerks must wait until Election Day to count ballots, including absentee ballots. "We can't get through 3 million ballots in 12 hours on Election Day, so it may take a few extra days, but we should certainly have results by Friday (Nov.6)."

For those who want to vote in person, what precautions will be taken at polling places to protect people from being infected by COVID-19?

Personal protection equipment will be provided to all elections workers, and wearing of masks and social distancing will be required, Benson commented.

What happens if poll watchers get overly aggressive with people waiting to vote?

"We will be working with law enforcement to make sure voters are not harassed or intimidated," Nessel said. "Voting will not be disrupted."

A recent federal court ruling said as long as absentee ballots are postmarked by Nov. 2 and received at clerks' offices within two weeks, the ballots must be counted. So we actually have until Nov. 2 to mail our ballots?

"As of today, that's the law. But by tomorrow that could change," Nessel replied. "Maybe that ruling stands, maybe it doesn't. But don't take that chance with your vote."

My husband recently had brain surgery, so his current signature may not match the one on file at the clerk's office. How will this affect his vote?

Benson said local clerks are required to contact voters if a signature on absentee ballots do not match a signature on file. "You can also update your signature with the local clerk," she said.

What are your predictions for turnout?

Benson said she expects the current record of 5 million votes will be broken, "it's just a matter of by how much. Voters are incredibly enthusiastic to make their voices heard" despite the pandemic, she said.

Where can people get more information about the election?

Go to michigan.gov/vote or aarp.org/mivotes

If people suspect misinformation, fraud or other election irregularities, where can they go?

Michigan.gov/electionsecurity or misinformation@Michigan.gov

AARP Michigan conducted an unscientific poll during its telephone town hall, asking participants to describe their thoughts on the integrity of the 2020 election. Results: 30% said they are concerned, 47% said they are confident, and 22% said they are not sure.

Watch the recorded interview on WLAJ-TV at 9 a.m. on Oct. 13.