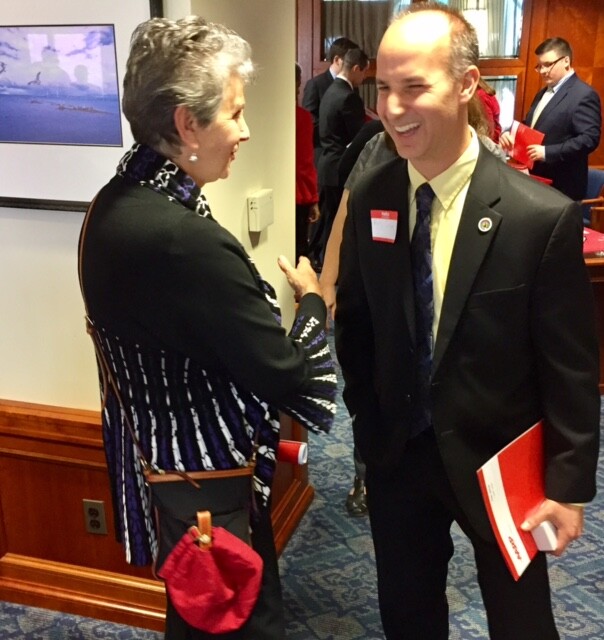 They came for sandwiches, potato salad and iced tea, and they came away with a better understanding of AARP Michigan's legislative agenda for this year.
The 2017 AARP Michigan Legislative Luncheon at the colorful Mackinac Room in the Anderson House Office Building on April 18 drew lawmakers and aides from both parties, representing 47 legislative districts.
About 90 branded volunteers were on hand for State Lobby Day to help with the festivities and meet with the legislators. Some sat and talked with Senators or Representatives from their home districts.
Attendees also dined and chatted with AARP leadership, including AARP National President Eric Schneidewind, AARP Michigan State Director Paula Cunningham and AARP Michigan President Chris Holman.
Much of the talk focused on the 2017 AARP Michigan Legislative Agenda, which was available on the tabletop near the room entrance. Caregiving, health care access, retirement savings, affordable utilities, support for veterans and many other issues are covered. Read it here: https://states.aarp.org/take-a-look-aarp-michigan-2017-state-legislative-agenda/
"The impressive volunteer turnout made this a special event," Cunningham said. "It was a great opportunity for us to meet with legislators and staff and let them know what AARP is about in Michigan. And it was a great opportunity for lawmakers and aides to share quality time with our extraordinary volunteers, many of whom are their constituents."