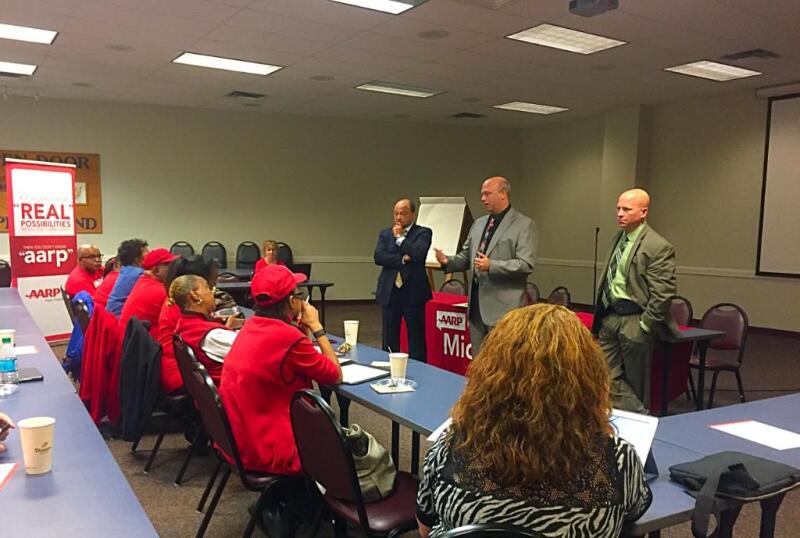 AARP Michigan volunteers took a crash course in door-to-door canvassing today, as they prepare to help Flint residents fill out permission cards for tainted water service line replacement.

A core of lead volunteers who will be on the ground in Flint neighborhoods heard from Genesee County Sheriff's Department and Flint FAST Start Initiative officials, and AARP volunteer leaders during a two-hour training session.

They were warned of the dangers of working neighborhoods in an urban environment and do's and don'ts of interacting with citizens.

The volunteers were told by law enforcement officials to stay alert, look for evidence of dogs, listen, walk carefully, do not enter homes, and stay focused on the mission.

"You're here doing God's work. Be careful," said Detective Sgt. Tom Zak.

Susan Lutz, of the AARP office of Volunteer Services, advised the volunteers to carry charged cell phones, wear good walking shoes, dress for the weather and "have a smile on your face when you approach the house."

The volunteers said the training was relevant and helpful.

"This is the kind of work I joined AARP to do," said Curtis Cheatum, a volunteer from Jackson. "I believe we can be a real help to people in the Flint community, especially seniors."

AARP Michigan has joined the Flint Water Crisis response team as a trusted resource to assist residents with lead pipe replacement and to act as an information clearinghouse for older adults in the city.

Volunteers will help residents on the pipe replacement schedule complete consent forms so their lead and galvanized service lines can be replaced.