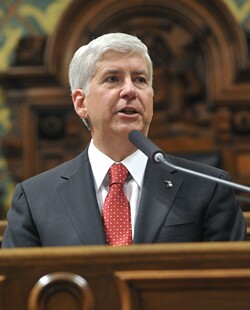 Following is a statement from AARP Michigan President Thomas Kimble in reaction to Gov. Rick Snyder's State of the State address Thursday evening:
"AARP Michigan is pleased about the governor's proposal to clear the backlog for Meals on Wheels and other in-home services for older adults. Hunger is a growing problem among seniors and anything that can be done to address this most basic human need is a positive step.
"Also, surveys repeatedly show people prefer to remain in their homes as they age. Allowing more seniors who need long-term care to receive food delivery and other vital services in their homes, rather than go into nursing homes, saves the state millions of dollars. Studies show it costs three times as much to pay for nursing home care, which is often supported by Medicaid.
"We were heartened to learn the governor will deliver a special message on senior issues in the spring. We look forward to hearing at that time about his vision for addressing the alarming erosion of retirement security. And we expect his message will celebrate the positive role older adults play in the economic growth of this great state."