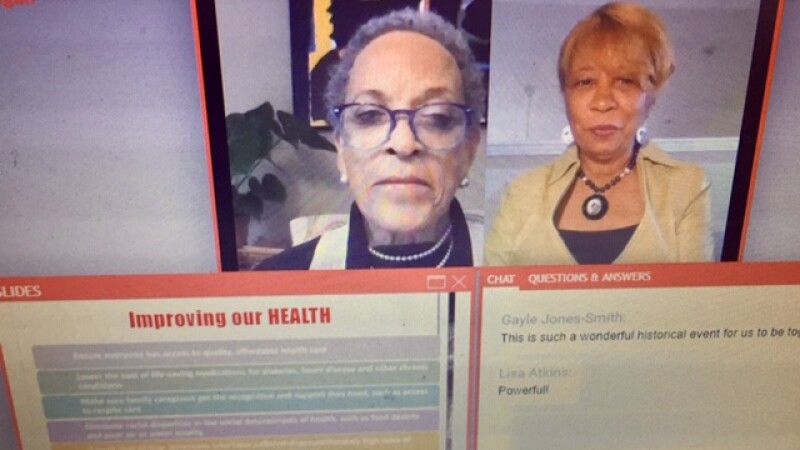 An AARP Michigan virtual event featuring experts and celebrities and aimed at creating a shared advocacy agenda for older African American women focused on healthcare and financial issues drew about 200 interactive attendees Thursday.

The two-hour "MI Sisters and Friends: Conversations that Count" enabled at-home viewers to vote on issue options. They arrived at a six-item health and wealth agenda:


Ensure that everyone has access to quality, affordable health care.

Lower the cost of life-saving medications for diabetes, heart disease and other chronic conditions.

Make sure seniors have access to safe and affordable long-term care that allows them to "age in place" in their home, instead of a nursing home.

Protect Social Security from cuts to ensure that our elders can afford to live with dignity.

Foster development and growth of Black women-owned business, both to create jobs and ensure better access to essential goods and services in underserved communities

Improve access to government contracts for minority-owned small businesses.

The audience survey data and chat comments will be presented to elected officials, said Paula D. Cunningham, State Director of AARP Michigan.
"This agenda becomes our collective voice," Cunningham said.

The free program that was open to everyone was punctuated with impactful quotes from panelists and moderators, and included a closing performance by legendary gospel singer CeCe Winans of Detroit.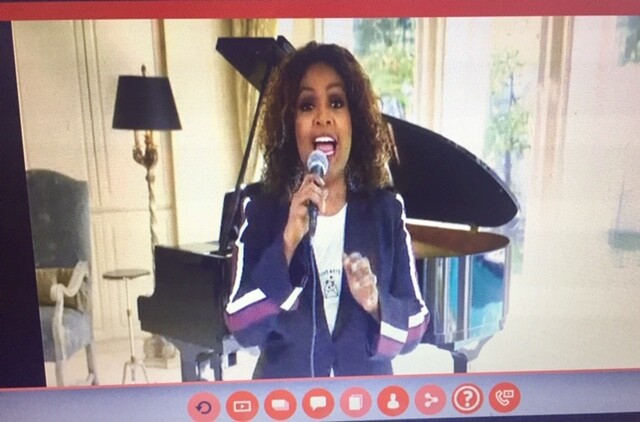 Here's a sampling of comments from participants:


"I agree that African American women over 50 will decide the November election. That is power, but it is also a responsibility," said Dr. Johnnetta B. Cole, moderator, and former president of Spelman College. "We women folk have a right and a duty to cast votes on issues important to us."
"Our (entrepreneurship) options are limitless," said Edna Kane Williams, AARP Senior Vice President for Multicultural Leadership. "African American women are wonder women in many ways. We get the job done. But sometimes we need to ask for help."

Regina Belle, singer-songwriter and actress, recounted her long recovery from 2009 brain surgery and caregiving for her father and mother. "I had to find those in my village who can handle the things I cannot," she said.

"Most importantly, we are underpaid. We struggle with that," said Jacky Clark Chisholm, Grammy Award-winning gospel singer who was a member of the Clark Sisters. Several speakers noted that African American employees make 68 cents on the dollar compared to white co-workers.

"We must encourage our people to vote for the right candidates" who will improve health care quality and access, said Martha Reeves, leader of the Motown super group Martha Reeves and the Vandellas.

"This is a perfect time for women to start businesses," said Marilyn French Hubbard, founder of the Black Women Entrepreneurs, Inc. "African American women are starting businesses at a higher rate than any other group," but many are not creating the wealth they need to support families, she added.

"COVID is disproportionately affecting women" because so many work in service industries that don't enable them to work from home or isolate themselves from others, said Sandra Gaddy, chief executive officer of the Women's Resource Center in Grand Rapids. She added that "women spend more time making economic decisions than men" and should "use that spending power to influence markets."

"Women are naturally entrepreneurs, but there are obstacles," said Gail Perry Mason, an authority on the financial industry and best-selling author. She advised women to start "mind-your-own-business days" that afford them time to take care of their own health and wealth instead of others.

"Our dollars have power, but don't make your money homeless," said Staci Alexander, AARP Director of Thought Leadership, summing up the messages conveyed by the panel on financial issues.
Winans closed the event by telling attendees: "Remember to vote. Your voice matters," before wrapping up with her live performance of "Never Have to be Alone."

Come back to aarp.org/mi to find out how you can view a recording of the event.