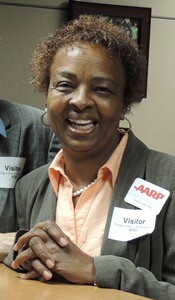 AARP volunteer activist Annie Mae Holt of Detroit authored the following opinion piece on raising standards for financial advisers to retirees:

Under current law, it is not required that financial advisers act in your best interest. In one instance, I did not discover until it was too late that "Mr. Q", my financial planner/plan provider, had advised me to reinvest, to perhaps, his advantage. The cost to me was a $10,000 rollover penalty.

The benefits of this reinvestment resulted in a substantial commission for "Mr. Q". He received a bonus from the early withdrawal and a bonus for the reinvestment, which translated to a new account. For me, this new account carried the 12-year withdrawal penalty.

"Mr. Q" led me to believe that once I signed the papers for the reinvestment and left his office, I COULD NOT CHANGE MY MIND. It was only later when I shared the matter with a friend that I discovered I actually had almost twenty-eight days in which to reverse my decision before the transaction would have become final.

I later invested with "Mr. A," a different financial consultant, in a product that has grown significantly over the last five years. Still, knowing that "Mr. Q" ill advised me for more than 18 years sometimes causes me to become quite angry and anxious.

A rule change that has been released for public comment by the U.S. Department of Labor would raise the standards for financial advisers. A loophole that allows bad-actor firms to present advice based on what's best for their pocketbook would be closed. That bad advice costs retirees up to $17 billion a year.

Join AARP in fighting for open rules, unbiased advice, and a new standard that holds Wall Street genuinely accountable. Tell your representatives in Congress to support closing the loophole.