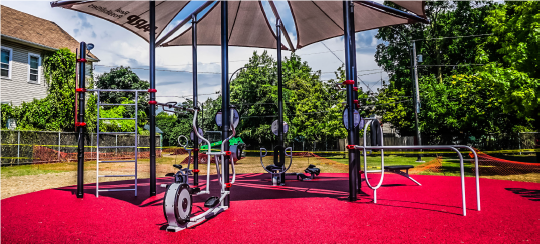 Grab the grandkids and make memories at the grand re-opening of Lansing's AARP Sponsored Fitness Park on Saturday, September 14 from 1 to 4:00 p.m. The afternoon will feature demonstrations of the exercise stations for the adults and many interactive activities to do with your grandchildren. You can even challenge the grandkids to fitness contests! Hula hoops anyone?

FitLot and AARP teamed up in 2019 to bring a fully-funded AARP Sponsored Outdoor Fitness Park to all 50 states, the District of Columbia, the U.S. Virgin Islands and Puerto Rico. Michigan's FitLot park opened in July of 2020 and is located on the Lansing River Trail just north of Rotary Park at 325 Riverfront Drive in downtown Lansing. The park is designed for all ages and abilities and features an exercise bike, stair stepper, hand cycle, and chest and back press.

"There's no doubt we're all ready to celebrate life's special moments together again, including cherished moments with grandchildren," said AARP Michigan State Director Paula D. Cunningham. "Lansing's FitLot belongs to everyone, young and old, we are thrilled to be celebrating its grand re-opening with a cross-generational party. Get ready for some fun, Lansing!"

This free community event is open to the public and includes family-favorite activities like Hula Hoops, a putting green, giant Jenga, corn hole, a prize wheel, crafts, hopscotch, sidewalk chalk, a selfie station and ten-minute exercise sessions.


For media inquiries: Cathleen Simlar, csimlar@aarp.org or 248-472-7386.