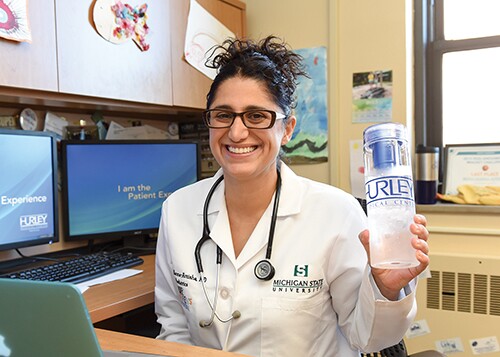 Dr. Mona Hanna-Attisha, the Flint pediatrician who relentlessly called attention to lead poisoning issues in the Flint water supply, has been named the winner of the 2016 Stephen J. Gools Award for Social Change sponsored by AARP Michigan.

The award is given annually to the individual, couple, group or non-profit organization that has significantly contributed to positive social change. The honor is named for former AARP Michigan State Director Stephen Gools, who passed away in 2011 after a career of distinguished public service.

Dr. Mona, as she is affectionately called, is a pediatrician for many of Flint's poorest families. She heads the pediatric residents program at Hurley Medical Center and is a pediatrics and human development professor at the Michigan State University College of Human Medicine. Her training and experience have focused on environmental toxins and their impact on health.

She conducted exhaustive research using Hurley's medical records to compare the blood-lead levels in Flint children against children elsewhere in Genesee County. She found alarming elevated blood-level levels in Flint children and traced increases to the timing of the city's switch from using Detroit drinking water to water drawn from the Flint River.

Hanna-Attisha persisted in calling public attention to her findings even after her study was initially dismissed by state officials. Her research and commitment eventually precipitated a wide-ranging government response to the Flint water crisis.

"Dr. Hanna-Attisha is a hero in this tragic story," said Paula D. Cunningham, AARP Michigan State Director. "Her talent, courage, dedication and persistence led to immeasurable positive social change. Who knows how many of Flint's children she saved from the debilitating effects of lead-poisoned water."

The 38-year-old physician will receive the award at 11:30 a.m. Friday at Hurley's Children Center, 300 East 1 st Street, Flint.