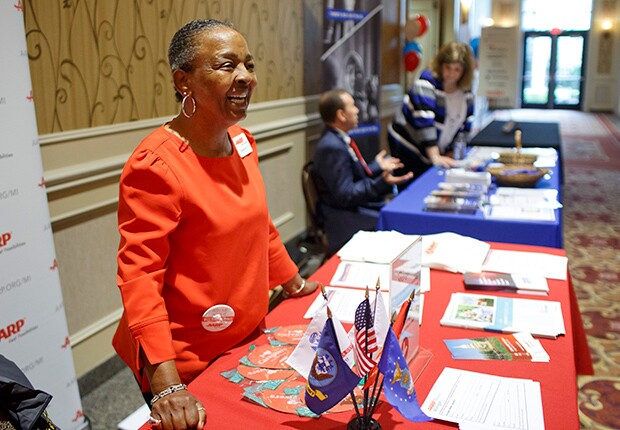 By Melissa Preddy

Annie Mae Holt has long been a citizen activist, from her days as a teenage civil rights demonstrator in Birmingham, Ala., to serving as a precinct delegate in Detroit to myriad volunteer efforts in retirement.

So it's no surprise that Holt, 71, will be among the AARP volunteers ramping up voter education efforts ahead of the Aug. 7 primary and Nov. 6 general election.

She plans to lead seminars organized by staffers in the state office, giving tips about registration deadlines, how to obtain absentee ballots and where to find information about candidates.

"Even people who are experienced voters should attend," said Holt, a former language arts teacher who became a volunteer when she retired in 2011. "There will be things you can share with the audience and updates you can pass along to others."

Michigan voters will be weighing choices for many state and local offices, including governor and attorney general—races with no incumbent. They will also cast ballots for one senator and all 14 U.S. House members.

While AARP does not endorse candidates, contribute to campaigns or favor political parties, staffers and volunteers are planning a variety of informational efforts to aid voters, said Lisa Dedden Cooper, manager of advocacy for AARP Michigan.

"Things have changed with how people get information and how candidates respond," said Dedden Cooper, noting that social media and other digital channels have supplanted printed voter guides.

"But what hasn't changed is that we again expect to see that two-thirds of voters turning out in Michigan will be age 50 or over," as in the 2014 midterms, she said. "We want to encourage everyone to be informed and to participate in the process."

Focus on telehealth

AARP Michigan's legislative agenda spells out some of the subjects that state candidates will be asked about. One priority is increased use of telehealth services through better high-speed internet, which supports remote monitoring and video consultations with health care providers.

This fall look for informational seminars for voters, and a live forum featuring the gubernatorial candidates, probably in October

IN addition, a video Q&A session with gubernatorial candidates answering questions from AARP volunteers, will be posted online, along with voter guides to the Senate race and select races for the U.S. House.

"At the federal level, we will focus on Medicare, Social Security and lowering prescription drug costs," Dedden Cooper said. "And we will focus on a handful of particularly impactful House elections."

Nina Rodriguez, 76, said more voters eligible for the absentee ballot should take advantage of that opportunity.

"I have been doing it since I turned 65," said Rodriguez, a Catholic nun who volunteers with the Ste. Anne de Detroit parish on the city's west side. "It helps to have extra time to read up and to think about the candidates and issues."

Information about AARP Michigan's seminars and materials is at aarp.org/mi. Interested in becoming an advocacy volunteer? Contact Sue Tumosa at stumosa@aarp.org.

Melissa Preddy is a writer living in Plymouth, Mich.