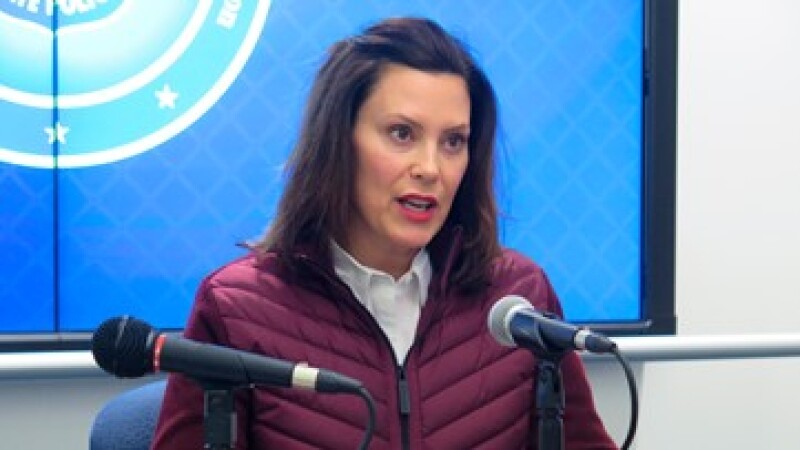 Following her Shelter in Place order Monday to protect the public from the spread of COVID-19, Gov. Gretchen Whitmer said during an hour-long teletown hall hosted by AARP Michigan that the virus is multiplying at "an incredibly alarming rate" so aggressive measures to slow it down are essential.

"This virus is spreading so fast we really need people to stay home," Whitmer said in opening remarks to the teletown hall.

The governor also told thousands of listeners who called in or were dialed up that testing supplies are in short supply in Michigan. About 1,000 people a day can be tested, well short of demand.

"They're saying people who are older with underlying conditions, they can get tested. But how sick do we have to get before we get tested?" one called asked.

She was told to contact her medical provider to walk through the process, and discuss her symptoms and testing criteria.

The governor's stay-home order will remain in place for at least the next three weeks. Schools also will remain closed until at least April 13.

Whitmer said earlier Monday during a news conference that 1,232 Michiganders are infected with the novel coronavirus and 15 have died. Reports later in the day put the number of cases at 1,328.

If the state does nothing additional to keep people safe, the caseload will increase five-fold within a week, said Dr. Joneigh Khaldun, Chief Medical Executive for the Michigan Department of Health and Human Services, who joined Whitmer in the news conference and the teletown hall.

"Our trajectory looks a lot like Italy's," Whitmer said, referring to country where COVID-19 has claimed its most victims.

If Michigan stays on this trajectory, over 70 percent of the state's population (about 7 million people) will be infected with the virus and over one million will be hospitalized. The state has only 25,000 acute care hospital beds available, the governor said.

Whitmer stressed that there are no cures or vaccines for the new virus.

"The only tool we have to fight it at the moment is to take these aggressive measures to buy some time," she said. "Not being around each other is the only thing we can do to slow down the spread of the virus.

"This aggressive action we're taking today will help mitigate how many people will get sick and how long our economy will suffer."

Under her Stay Home. Stay Safe. Save Lives executive order, all non-essential businesses must be closed under the threat of fines. Non-essential businesses can keep enough employees on the job to maintain basic operations. Those that can remain open to customers include: grocery stores, take-out food at restaurants, hospitals and other health care facilities, banks and credit unions, veterinary clinics, and gas stations.

Michiganders may not leave home to work unless their employers designate them as a critical infrastructure worker. They may not visit someone in the hospital, nursing home, or other residential care facilities. They may not participate in any public gatherings, or go to a mall or restaurants.

"These are not recommendations. This is an order," Whitmer said.

Michiganders can walk, hike, run or bike outside but should remain six feet away from others. While the order calls for a halt to non-essential travel, people can leave the state for a home somewhere else, or return home to Michigan from another state.

Businesses must promote remote work to the fullest extent possible, restrict the number of workers present in-person on the job, keep employees at least six feet from one another and enable social distances for customers who are standing in line.

A small business owner who called in said the virus has shut down his business and he wants to know if there will be any forgiving by the state or at least delay of taxes or fees. Whitmer said her administration is considering delaying the state income tax filing deadline for individuals and businesses, similar to action taken by the federal government, which has extended the filling date to July 15. She said she is also looking at state policy regarding access to utilities.

In conclusion, the governor said: "This order today is an aggressive action, but it's absolutely necessary. Please take this seriously. Do your part by staying home."

For more information, go to Michigan.gov/coronavirus, aarp.org/coronavirus or the Center for Disease Control at CDC.gov/coronavirus.