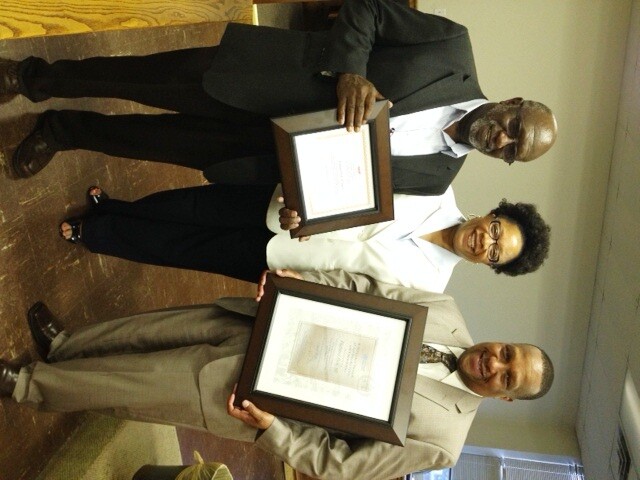 Highland Park on Tuesday became the second Michigan city to join the World Health Organization (WHO) of Age-Friendly Cities and Communities and the AARP Network of Age-Friendly Communities.
The Highland Park City Council received a certificate from AARP State Director Jacqueline Morrison at its Tuesday meeting.
Joining the network means Highland Park is committing to improve elements in the community that enhance independent living with a goal of having older citizens take a more active role.
It is a five-year program. At the end of the fifth year, the city will be evaluated and if it meets the criteria it is invited to participate in another 5-year improvement cycle.
"We are pleased to have Highland Park joining the Age-Friendly Network," said Jacqueline Morrison, AARP Michigan State Director. "Communities that adopt forward-thinking public policies and urban planning models will attract and retain more residents as Michigan's population ages. We need to put policies in place that make communities friendly to all ages."
By 2030, nearly one-quarter of Michigan residents will be 50 or older. The fastest growing age group in the state is 85 and older.
"Crain's Detroit Business recently reported that 'Highland Park is a city ready to rise.' We are thankful to AARP and the WHO for including us in their international network of cities," said Highland Park Mayor DeAndre Windom. "This initiative will help us as we continue to rise by working toward our goal of fulfilling the needs and aspirations of more of our residents."
As the U.S. population continues to age and as people stay healthy and active longer, American cities, towns and counties must adapt to the needs of changing demographics to serve the interests of their residents and sustain economic and social vitality.
Highland Park will be evaluated for: accessibility to outdoor spaces and buildings; safe and affordable public and private transportation; a wide range of housing options; access to leisure and cultural activities; programs that support and promote ethnic and cultural diversity; promotion of paid work and volunteer activities for older residents; promotion of and access to technology to keep older residents connected; and access to homecare services, clinics and programs to promote wellness and active aging.
Auburn Hills was the first Michigan city to join the Age-Friendly Cities and Communities Network in 2013.
Learn more at www.aarp.org/livable-communities/