Honoring leaders giving back to their communities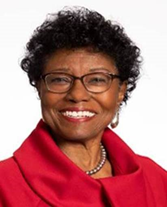 Dr. Surae Eaton
Retired Physician / AARP Volunteer
Lansing, MI

By Cathleen Simlar

Across Michigan, there are many heroes among us who selflessly step forward in service to others. In celebration of Black History Month, AARP Michigan proudly honors one such local hero, Dr. Surae Eaton of Lansing, whose service extends across multiple generations and into the future.

Born and raised in Lansing, Dr. Eaton traces her affinity for social activism to her mother who was an advocate for the local chapter of the NAACP along with many other causes. But it wasn't until the late 1960s when she was an undergraduate student at Howard University in Washington, D.C. that Dr. Eaton found her groove.

As a young woman, inspired and energized by the Civil Rights movement, she left her studies and set up a clinic in an underserved area of the city to counter the imbalance of health care services for Black residents. To staff it, she turned to medical students from Freedmen's Hospital, the first hospital in the country for freed slaves, but soon began doctoring patients herself to help meet the great need. It was in those moments that she found her calling. A prestigious surgeon from Freedmen's hospital became her mentor and told her she couldn't practice medicine without a license. He encouraged her to go back to school and invited her to shadow him, even allowing her to assist during surgeries. The dye was cast.

Dr. Eaton went on to graduate from Howard and earned her medical degree from Michigan State University (MSU), launching her into a career as a primary care physician, including five years at St. Mary's Hospital in Saginaw and 30 years at Sparrow Hospital in Lansing. But that's just the back story to the undercurrent that makes her a local hero …

For starters, Dr. Eaton decided to open the door to more minority students in medicine. "As a physician at Sparrow, for 30 years I was the only African American primary care doctor and I came to realize that you can't be it if you don't see it," she said. "I decided to take my experiences from those early days in D.C. and pay it forward in any way possible to deliver better health care to African American communities."

That work includes her determined efforts as part of the community faculty at MSU to get more African Americans to apply for medical school and go into primary care. Her work has influenced dozens of young people to becomes doctors, extending the reach of her good work into the future.

She also continues to use her M.D. and her voice to raise awareness on health care issues in African American communities, particularly on topics involving diabetes, hypertension and obesity. She has spoken at hundreds of events, including those hosted by AARP Michigan, the Capital Area Alliance, local churches, Playmakers Foundation and Delta Sigma Theta, Inc., her college sorority, where she has also served as chair and member of their Health Lifestyle Committee.

On the ground, Dr. Easton has been a familiar fixture at Lansing programs championed by the late Joan Jackson Johnson, including the food pantry and clothing collection programs for families and has spoken at numerous events on caregiving for babies and children. She has also worked with the Negro Business and Professional Women's Club – Greater Lansing Chapter where she has spoken on health issues.

Though now retired as a primary care physician, Dr. Eaton's interest and commitment to community activism has not waned. In fact, it remains her life's purpose.

"When we come together to serve the needs of others for a common cause, we are putting our gifts and talents together to make that cause successful," she said. "There truly is no greater gift on earth than giving back to others."

Spoken like a true hero.