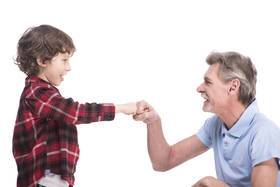 AARP Michigan, the City of Lansing, and WKAR will host a Grandparents Day event, a national holiday that celebrates the special bond between grandchildren and grandparents, on Sunday, Sept. 9 in Lansing.

Free activities for all ages will take place from 1-4 p.m. at the Don Johnson Field House, 220 N. Pennsylvania Ave. at Lansing Eastern High School.

Over 35 participating organizations are bringing fun and interactive activities to this family event, including:

Dance instruction and performances;
Zumba, yoga;
Balloon animal making;
Street magic;
Making music with fruit and vegetables;
Tennis instruction;
Chalk art wall;
Learning about animals;
Old-fashioned games;
Martial arts classes;
Bounce houses, carnival;
Photo booth, selfie booth;
Storytelling, face painting and more.
The event recognizes that grandparents have always played an important role in families, and perhaps now more than ever. Nationwide, more than 2.7 million grandparents are raising grandchildren, according to census figures -- a number that is on the rise across the country.

Participating organizations include: AARP Michigan; Capital Area District Libraries; Lansing City Clerk's Office; Court One Athletics; Fenner Nature Center; Gray Taylor I Dream Dance Studios; Habibi Dancers; Hustle With Louvenia; Klinker the Clown; Kubb Game; Lansing Lugnuts; Mr. Magic; MSU Extension 4-H; Nature Discovery; Operation Life Saver; Old-Fashioned Games; Life Touch Studios; Red Cross; Riverwalk Theater; Ronald McDonald House; TCOA; Victory Martial Arts; WKAR; YMCA; Yoga-Jane Thomas; Zap Zone; Zumba by Love Thy Body and more.

Learn more at aarp.cvent.com/gpdaylansing2018