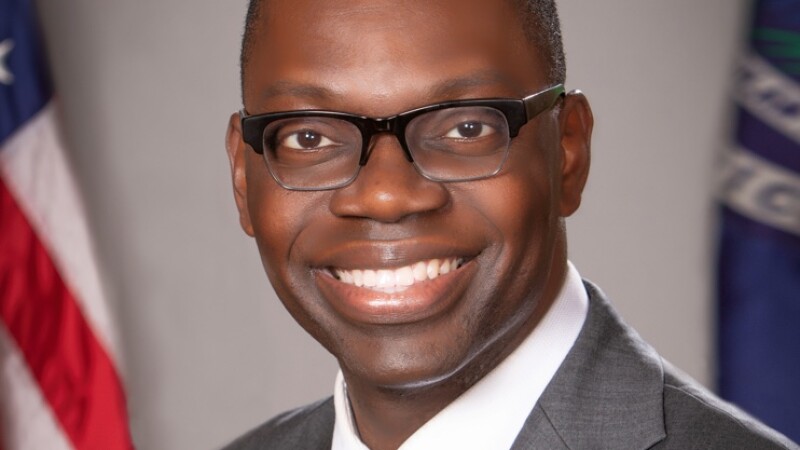 Look for an announcement soon about "mobile units" going into neighborhoods where people are isolated without transportation to deliver COVID-19 testing, Lt. Gov. Garlin Gilchrist said Wednesday during a telephone town hall hosted by AARP Michigan.

"As we increase our testing, we have to make sure it's getting to where we need it most," Gilchrist said during the hour-long teletown hall that attracted more than 4,000 participants, mainly in Wayne County.

He said "vans" can be mobilized "to have tests delivered to where people are." The Lieutenant Governor also said testing needs to be ramped up in places where people are living in poverty, and in prisons, jails and nursing homes.

Gilchrist opened the interactive discussion by saying taking steps to stem the spread of the coronavirus "is not a theoretical exercise." He said he knows 19 people who have died form COVID-19.

"Every time we talk about numbers, we're talking about people's lives," he said.

As leader of the Coronavirus Task Force on Racial Inequalities, he also noted that black residents are "disproportionately affected" by the pandemic partly because many are essential workers on the front lines delivering food, health care, and other necessities of life.
Companies able to re-engage employees have a great responsibility to provide safe environment at work. If they cannot do that they should not reopen.
Lt. Gov. Garlin Gilchrist

Gilchrist fielded many questions during the event, including:

Rosalyn of Detroit asked: Why haven't guns already been banned from the State Capitol Building?

"I agree with you. It's ridiculous and dangerous," Gilchrist said. "You can't bring a poster but you can bring a long gun. It's up to the Michigan Legislature, they have the responsibility to do that (ban guns), to take action on it."

George of Livonia asked: Why aren't we disinfecting public places like buses, schools, and handrails as they are in Europe and Asia?

"We need to make sure we're disinfecting highly public areas," Gilchrist said. "Disinfecting is going to be critical to the plan."

Edna of Detroit asked: Is there a plan to open the schools safely in September given cuts in the education budget?

"It will depend on the nature of the spread of COVID-19 when we're coming toward fall," Gilchrist said. "Social distancing at a school is basically impossible."

He added school openings "will probably look different in different parts of the state. I'm not able to tell you right now that schools will look" like they did before the virus.

Shelly from Detroit asked: You're providing testing to seniors in nursing homes, how about seniors who live alone at home?

Gilchrist reiterated the plan to drive mobile units to people in need and added "we will need help identifying where those in need are. Who do you know from church who needs extra help?"

Estelle from Canton asked: Auto companies are gearing up to start back to work. I have family in auto plants, they have not been tested. Why?

"Companies able to re-engage employees have a great responsibility to provide safe environment at work," Gilchrist said. "If they cannot do that they should not reopen. If people have an issue with their employer, they should call and say they don't feel safe, and we can look into that."

Sharon of Detroit asked: Half the people I see at stores aren't wearing masks and I see groups of children standing close together without masks. Why not enforce the law?

"I think there will be stepped up efforts to make sure people are wearing masks and social distancing," Gilchrist said. "I have seen mandates in some stores. That is a best practice."

He expounded on the Racial Inequalities Task Force, saying the group is "trying to develop interventions to reduce people's rate of infection and combating racial disparity.

"There are people who have to go to the store more than once a week, they take the bus to get there. How can we make that safer? How can we deliver food to people in a better manner? A lot of people who don't have doctors, they're maybe under-insured."

The pandemic is connecting many people with medical professionals for the first time in years, Gilchrist said, and the task force is looking at how to make sure that connection becomes long term.

"Social distancing reminds us how much we need each other. We will emerge from this an even closer-knit community, we will be ready for anything that comes toward us," the Lieutenant Governor said.