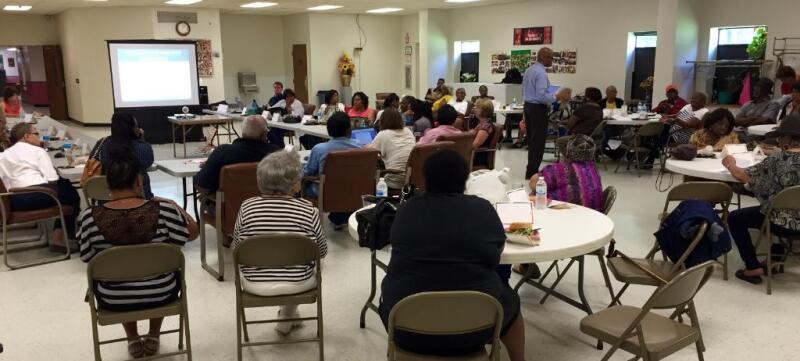 Adults 50 and older said during a listening session Saturday that they are the forgotten victims in the Flint water crisis.

During a wide-ranging, two-hour discussion at Hasselbring Community Center hosted by AARP Michigan and the Valley Area Agency on Aging, the Flint seniors said the focus of the city's recovery from toxic lead exposure is squarely on children, where it should be.

But older residents, who are also suffering the effects of the water contamination, have been largely ignored, they said.

"They (service agencies) are not taking care of us, not even considering us as human beings," one Flint woman said. "I'm fed up with it. We deserve a good quality of life."

"We will not shut up," added another participant. "We are a powerful force."

Joining forces with AARP States and Community Engagement, AARP Foundation, the Valley Area Agency on Aging, the Council of Michigan Community Foundations and others, AARP Michigan hosted two listening sessions in Flint on June 4 and June 5. The sessions will be followed by a survey of up to 800 city residents age 60 and older.

AARP, the Valley Area Agency on Aging and others are collaborating on an assessment of the Flint water crisis impact on older adults. The second listening session will be today at a city church, followed in the coming weeks by a survey of up to 800 residents 50 and older. An analysis of the sessions and the survey will be used to plan next steps.

These chief concerns surfaced during Saturday's discussion, led by Public Policy Associates of Lansing:

Affected water pipes in the city must be replaced – now.
External help is needed to review water bills.
Financial assistance is needed to pay for replacement of water heaters, pumps, washing machines and other appliances corroded by the contaminated water.
Older adults have limited access to water filters and installation help. They also need filters for shower heads, not just kitchen tap water.
Medical care assistance needs to be improved. Seniors reported health issues, including rashes, sores, tooth decay, itching, hair loss, swollen gums and peeling skin. Health care providers often can't help.
The senior community needs to mobilize and there must be more collaboration with community centers.
Comments included:

"We want a timeline on when we will get this done (pipes replaced)."

"The water is tearing down our appliances. I just paid $1,000 for a new water heater and it wasn't that old."

"I can't sleep due to the itching."

"The bottled water doesn't have fluoride for brushing teeth."

"People are being told where they can get water, but what about those who can't get there (no transportation)?"

"(Human services) are a run-around, a farce."

"Everybody needs access to shower filters."

Another remarked that there are many homes where grandparents are caring for grandchildren, so they have issues affecting both ends of the age spectrum.

An elderly Flint man said the crisis response has been appropriately focused on children under 6 and pregnant women. "But they seemed to have forgotten about the seniors" with health issues such as damaged immune systems and high blood pressure resulting from the exposure to lead and other toxins in the water.

"This is the first forum focused on senior citizens," he commented.