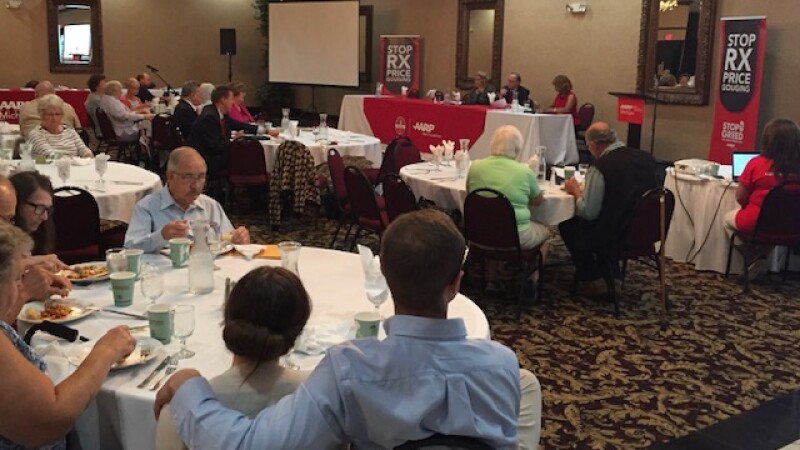 They came to hear about solutions to skyrocketing prescription drug prices and to share their personal stories about how exorbitant costs have affected their lives and their families.
About 100 attendees at Community Conversations at Howell and St. Clair Shores on Aug. 26 heard from state and federal lawmakers, and the elected officials certainly heard from them.
State Rep. Hank Vaupel of Fowlerville co-hosted the listening tour stop in Howell, and State Rep. Kevin Hertel of St. Clair Shores and U.S. Rep. Andy Levin of the 9th Congressional District collaborated with AARP Michigan on the interactive program in St. Clair Shores.
Paula Cunningham, State Director of AARP Michigan and Melissa Seifert, lobbyist for AARP Michigan also spoke at the two events and joined the legislators in fielding questions from the audience.
Among a flurry of questions:
Why can't Medicare negotiate drug prices?
How much do lobbying costs affect prices at the pharmacy?
Why isn't any of this anti-competitive behavior by Big Pharma considered illegal?
Proposals put forth at the federal level to enable Medicare officials to bargain with the pharmaceutical industry, the speakers responded.
"We can't answer your question about lobbying costs," Rep. Vaupel replied, adding that the information is not fully available. He has introduced a bill in the Michigan Legislature calling for drug pricing transparency.
Joseph Potchen, Assistant Michigan Attorney General who was in attendance in Howell, said law enforcement officials can only enforce the laws as written.
"You're doing the right thing in trying to get the laws changed," Potchen said.
Members of the audience told horror stories about the lofty costs of prescription drugs and their debilitating effects on the family budget. Pharmaceutical prices increase from $20 to $400 overnight. Drugs that cost $420 in Michigan can be purchased for $75 in Canada. Health insurance doesn't cover the high cost of effective pain medication. The soaring price of insulin, a drug that has been used in its current form for decades, has resulted in diabetes victims reducing their prescribed dosage.
Some speakers expressed anger and outrage. Some cried.
"All we want to do is live out our lives comfortably," one woman commented at the St. Clair Shores event.
Rep. Hertel commented: "This is outright greed. The pharmaceutical industry is getting away with highway robbery."
Seifert cited results from an AARP survey indicated two-thirds of people 45 and older are concerned that they won't be able to afford their prescription drugs.
Cunningham noted research that shows about one-third of Michigan residents stopped taking medication as prescribed due to cost.
"We're going to win this fight. We're on it," Cunningham said. "This seems impossible, but the timing is right now. And your voices are so important."
Added U.S. Rep. Levin: "We're going to fight for you until we make health care and prescription drugs affordable."
For more information about AARP's fight to reduce the cost of prescription drugs, go to: aarp.org/Rx