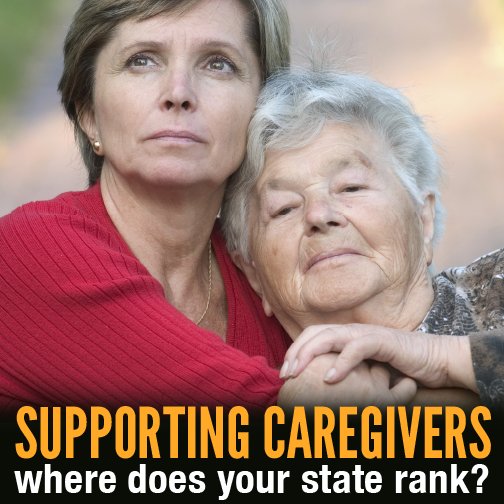 Michigan still needs tomake substantial improvements when it comes to meeting the long-term care needs of older residents, especially when it comes to support for family caregivers. This, according to a new, comprehensive state-by-state Scorecard from AARP with support of the nation's leading organizations behind quality long-term care, The Commonwealth Fund and SCAN Foundation.

Raising Expectations 2014: A State Scorecard on Long-Term Services and Supports for Older Adults, People with Physical Disabilities, and Family Caregivers – an update of the inaugural 2011 Scorecard – ranks each state within 26 performance indicators along five key dimensions: affordability and access; choice of setting and provider; quality of life and quality of care; support for family caregivers; and, effective transitions.

"The vast majority of older Michiganders want to live independently, at home, as they age – most with the help of unpaid caregivers," says Jacqueline Morrison, State Director of AARP Michigan, which serves more than 1.4 million members age 50 and older in Michigan.



AARP Michigan acknowledges that certaingains made in Michigan over the past three years in support of home and community-based services to help older adults age in place are not recognized in this report, which in some cases, relies on older national data. For example, Michigan made gains in rebalancing the state's long term care system through increasing spending for home and community-based care by 15.8 percent in fiscal year 2013, 6 percent in 2014 and 8.7 percent again in the fiscal year 2015 budget just passed by the Legislature. Those gains are not yet reflected in the report's indicators #5 and #7. Nevertheless, the new state Scorecard demonstrates how much more still needs to be done.

Of particular note, the report indicates that much improvement can be made in Michigan in the area of family caregiving.

Today, unpaid family caregivers provide the bulk of care for older Michiganders, in part because the cost of long-term care remains unaffordable for most middle income families. In Michigan, more than 2 million residents help their aging parents, spouses and other loved ones stay at home by providing assistance with bathing and dressing, transportation, finances, complex medical tasks like wound care and injections, and more. The value of this unpaid care totals about $16 billion.

"When it comes to helping older Michiganders live in the setting of their choice, this silent army of family caregivers assumes the lion's share of responsibility," explains Morrison. "Many juggle full-time jobs with their caregiving duties; others provide 24/7 care for their loved ones. With every task they undertake, these family caregivers save the state money by keeping their loved ones out of costly nursing homes – most often paid for by Medicaid. They have earned some basic support."

According to the state Scorecard, many family caregivers face stress and worry – nearly 40 percent of caregivers in the state indicate they are stressed and don't have enough time or get enough rest. Michigan needs to take action to improve legal and systems supports for this group , and toallow nurses to delegate basic health maintenance tasks, like checking blood sugar or temperatures, to home aides. Michigan ranks last among the states in number of these tasks that are able to be delegated to aides.

By broadening the scope of practice of advanced practice nurses as Senate Bill 2 would allow, these nurses would have more authority to help patients and their family caregivers by using all of their health care knowledge and training. And by allowing certain basic health maintenance tasks to be delegated by nurses to home aides, new legislation could help ensure that family caregivers don't just have to figure out and perform these tasks on their own, untrained.

Michigan ranks 35 th on the Scorecard's indicator that measures the level of legal and system supports for family caregivers in our state. One way that Michigan could improve the situation of family caregivers in Michigan would be to introduce and pass the Caregiver Advise, Record and Enable (CARE) Act. The CARE Actrecognizes the critical role family caregivers play in keeping their loved ones out of costly institutions. It would help family caregivers when their loved ones go into the hospital – and as they return home. Specifically, the CARE Act would require hospitals to:

Record the name of the family caregiver when their loved one is admitted.

Notify the family caregiver when their loved one is to be moved or discharged.
Give instructions of the tasks the family caregiver will need to perform while caring for their loved one at home.
Most card recipients do not have a home visit by a health care professional after discharge from the hospital, and almost half of family caregivers perform medical or nursing tasks for their love ones with multiple chronic physical and cognitive conditions. Three out of four caregivers who provide these medical or nursing tasks manage medications, including administering intravenous fluids and injections, with little or no training.

Also, workplace protections could be enacted in Michigan to helpfamily caregivers who hold down full-time jobs while providing care for their loved ones. Today, many Michigan workers have no family leave, or paid or unpaid sick leave through their employers. Making family leave available for caregivers would help them manage their caregiving responsibilities without having to choose between their jobs and their loved ones.

"This Scorecard gives us a snapshot of how well Michigan serves our older residents, those with disabilities, and family caregivers – and shows how we can sharpen our focus to better assist Michiganders who are working hard to balance work and family responsibilities," concludes Morrison.

The Scorecard reveals, "In just 12 years, the leading edge of the Baby Boom Generation will enter its 80s, placing new demands on a still imperfect long-term care system. Further, this generation will have far fewer potential family caregivers to provide unpaid help.

Long-term care (also called long-term services and supports) is a diverse set of services designed to help older people and those with disabilities; services can be provided in a person's home, in a community setting such as an adult day center, or in a group residential facility like a nursing home.

The full state Scorecard, along with an interactive map of state rankings and information, is available at http://www.longtermscorecard.org.