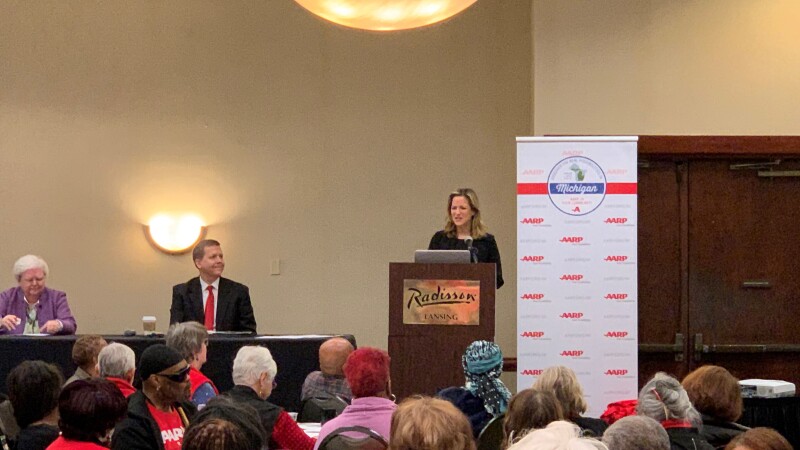 All Michigan elections this year will be "safe, secure, accessible and held as scheduled," Michigan Secretary of State Jocelyn Benson said today during a telephone town hall hosted by AARP Michigan.

The state's top elections official also told about 15,000 participants on the call that false information being floated out there is being dealt with properly by her department, which is regularly sharing information to assure voters that their votes will count in the Aug. 4 primary and the Nov. 3 general election.

The May 5 municipal elections, which saw significant turnout, were conducted largely by mail and were done safely, she said. Signature validation is key to preventing voter fraud, she said. If there is a mismatch in the signature, clerks in Michigan have been instructed to reach out to voters and confirm verbally if the ballot was completed by them.

Benson noted that all registered voters will get an application for absentee ballots. Her office is mailing applications to all 7.7 voters. Voters "should keep an eye out" for the mailed applications and if they don't receive one they will be available in grocery stores, convenience stories and other locations. Non-profit groups will also be sending out absentee applications. And applications also can be obtained at Secretary of State Branch offices around the state, or completed online at Michigan.gov/vote

Above all else, no one should have to choose between their health and their right to vote.
Secretary of State Jocelyn Benson
Actual ballots will be sent out at least four weeks before the election. Michiganders can still vote at the polls on Election Day, if they so choose.

Extra pains are being taken this year to get absentee ballots to Michiganders because of concerns about safety due to COVID-19.

"Above all else, no one should have to choose between their health and their right to vote," she said.

This is also the year of "automatic registration" in Michigan, Benson said. Voters can register online, and in person up to Election Day.

Asked about reaching voters in low turnout areas, Benson said her department has identified the 100 precincts in Michigan with the lowest turnout and she is visiting them to talk to residents about the challenges they face.

Benson also said:

· Everyone whose vehicle registrations expire between March and July, now have until July 31 to renew registrations. People can also renew registrations online.

· The deadline for obtaining the Real ID, an upgraded driver's license to be required for all air travel, has been extended a year to Oct. 21, 2021.

· Those who vote absentee and decide they want to change their vote can do so up to the Friday before Election Day at their local clerk's office. There, they can spoil their submitted ballots and vote in person.

"You can't change your mind on Election Day, that's about the only restriction," Benson said.

During the telephone town hall, a survey of participants showed 82 percent intend to vote absentee.