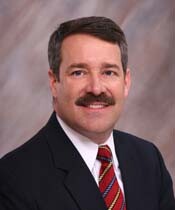 Rob Fowler, CEO and President of the Small Business Association of Michigan, has been named the winner of the 2013 Stephen J. Gools Award for Social Change sponsored by AARP Michigan.

The award is given annually to the individual, couple, group or non-profit organization that has significantly contributed to positive social change. He received the award at an AARP volunteer recognition ceremony on Saturday in Grand Rapids.

Fowler was a key player in the passage of arguably the most important bill that made its way through the Michigan Legislature this year: The Healthy Michigan Act.

This bill could not have a more profound social and economic impact on the lives of 470,000 low-income state residents who currently have no health insurance and will eventually benefit from its adoption.

"Certainly, the case could be made that without Rob's considerable commitment to this cause, the Healthy Michigan Act would not have passed and the half-million people in Michigan would be without health care for the foreseeable future," said Kim Gools, widow of former AARP Michigan

State Director Stephen J. Gools, who passed away in 2011 after a career of distinguished public service. The award bears his name. "I admire Rob greatly for his relentless devotion to passing this bill – one that he and Steve would have fought for side-by-side. I couldn't be more pleased that he is the winner of this award."

The Healthy Michigan Act extends Medicare coverage to hard-working Michiganders at 133 percent of the poverty level. That includes 75,000 people, age 50 to 64, many of whom recently lost jobs and employer-provided health care and are struggling in lower-paying jobs that have no health care benefits.

Fowler commented: "I am profoundly honored and humbled to receive this award. First of all because the recognition came from AARP, one of the key partners in the passage of Healthy Michigan, but also because I considered Steve Gools a friend and peer. It is perhaps ironic that, well before passage of the Affordable Care Act, we came to know each other as we fought to cover the uninsured in Michigan."

Fowler worked tirelessly on behalf of the bill, laying out the business case for its adoption to everyone who would listen. He became a top spokesperson for the Expand Medicaid coalition, made a video that was used to promote its passage, and testified before every legislative committee that considered the bill.

Rob Fowler joined SBAM in 2000, serving for three years as vice president and assuming his current position in 2003. Fowler also serves as President of the Small Business Foundation of Michigan, a subsidiary of SBAM.

Fowler is a director of the National Small Business Association. He also has served on the Governor's Council of Economic Advisors and as chairman of the board for Junior Achievement of Mid-Michigan, and president of the Haslett Board of Education.