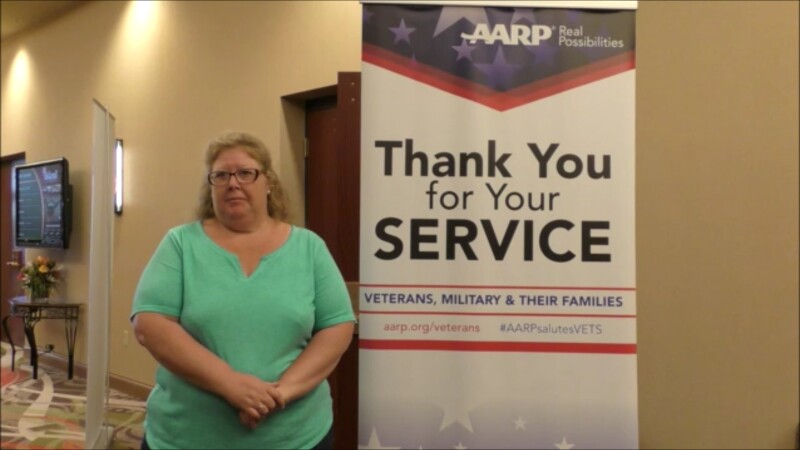 Donna Cavill of Escanaba served in the U.S. Air Force for eight years, part of that in the Desert Storm combat phase of the Gulf War.
As if the intensity and danger that come with combat service are not enough, Cavill recalled how she was treated as a second class citizen in Saudi Arabia because she is a woman.
"Women weren't even allowed to drive," she said, shaking her head.
It's for military veterans like Donna who put their lives on the line in difficult circumstances thousands of miles from home that AARP Michigan offers outreach events like the one held in her hometown on Friday. She was among the more than 70 veterans who attended the free, two-hour outreach program that was co-hosted by the Michigan Department of Military & Veterans Affairs. A similar event was held in Brimley on Thursday.
Cavill said she is receiving veterans benefits, adding: "I'm hoping to pick up any information I might have missed. Things aren't so targeted to the veteran here (in the area)."
Melissa Seifert, Associate State Director of AARP Michigan who has coordinated veterans outreach events for several years, said many veterans are unfamiliar with or unaware of the benefits they are eligible for after having served their country. The over-60 group is among the largest demographic of veterans, which underscores why AARP can play such a key role in connecting veterans, military, and their families to their well-deserved and earned benefits.
"You've done so much to serve us. Let us serve you," Seifert says to audiences at the opening of outreach events.
Underutilized or untapped earned benefits include: veteran's health care; widow's pension; help for caregivers; education aid; employment services; and burial benefits.
Jason Zdunek, Veteran Service Officer for the Michigan Department of Military & Veterans Affairs, offered one clue why veterans need help connecting with their benefits.
"There are 2,000 pages of legalese that govern veterans' benefits," he said.
Gunter Wise, an Air Force veteran from Gladstone, who attended the Escanaba outreach session, agreed that he needs help navigating the landscape.
"I'm here to find out what benefits I'm entitled to," Wise said. "It's a complicated process, and it's good to have someone lead you through it."
Paula Cunningham, AARP Michigan State Director, noted that Michigan formerly ranked at the bottom among the states for percentage of veterans taking advantage of the benefits due to them. After years of outreach, the state now ranks in the middle of the pack.
"And we know that's still not good enough," she said.
Bob Reinhart, another Air Force veteran from Escanaba, said outreach events like this one can help, and are very much needed in the area.
"I appreciate AARP for doing this," he said.
Among others on hand at Friday's event to help vets navigate their benefits were: Frank Lombard, Upper Peninsula Regional Coordinator, Michigan Veterans Affairs Agency; Jason Wallner, veteran navigator, Superior Alliance for Independent Living; Stephen Gillotte, employment counselor, Michigan Department of Talent and Economic Development; Cheryl Goc, engagement specialist, UPCAP; Stacy King, tribal veteran service officer, The American Legion; Emily Rissman, community analyst, Michigan Veterans Affairs Agency.
Jimmy and Sally Bruce, AARP Michigan Executive Council members from Escanaba, were instrumental in putting on the event.
For more information on veterans benefits, click here: https://explore.va.gov/