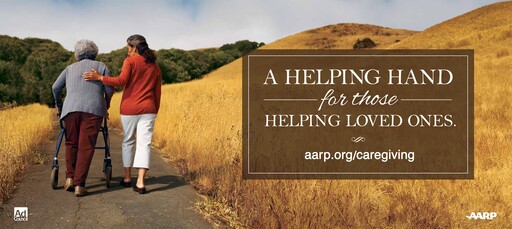 According to a new AARP poll , almost three out of ten people who are caring for a loved one say their life has changed since becoming a caregiver. More than one in five says their weight, exercise, or social life has suffered. To illustrate the complexity and help the 42 million sons and daughters, friends and spouses caring for parents and loved ones see themselves as caregivers, AARP and the Ad Council are unveiling a new suite of Public Service Advertisements (PSAs) as part of their Caregiver Assistance campaign. The PSAs will be distributed today as part of National Family Caregivers Month (November) and direct caregivers to tools and resources to help cope with their daily responsibilities at aarp.org/caregiving .

AARP's national poll, Caregivers: Life Changes and Coping Strategies, underscores the personal challenges of caregiving; one in three report feeling sad or depressed and 44 percent admit to bottling up their feelings. Additionally, 38 percent of respondents say they sleep less since becoming a caregiver, 24 percent eat more, 33 percent avoid making decisions and a third isolate themselves, avoiding people or situations.

According to a previous AARP study, Valuing the Invaluable: 2011 Update, at any time during the year 826,000 Mississippians found themselves serving as caregivers. The economic value of their unpaid caregiving is $9.70 per hour.

"Family, friends and neighbors who support a loved one rarely see themselves as a caregiver," said Debra Whitman, AARP Executive Vice President for Policy, Strategy and International Affairs. "And they almost never ask for help. But at some point in their lives most people will be a caregiver or need support. Our campaign is here to remind caregivers that they aren't alone and there is help."

Created pro bono by New York-based advertising agency TAXI, the multimedia PSAs show the many hats caregivers wear in caring for their older loved ones. Every day, caregivers are nurses, housekeepers, personal assistants, cooks and accountants, but above all they are daughters, sons, grandchildren, spouses, nieces and nephews. As reflected in the poll, 52 percent of caregivers are "proud" to be caregivers. Through the PSAs women aged 40 to 60 are urged to visit aarp.org/caregiving for tools and resources and to connect with experts and other caregivers in a supportive community where "together, we can better care for ourselves and the ones we love." Outdoor and print PSAs are also available in Spanish. The Spanish language website is www. aarp.org/cuidar.

"We have caregivers here on our staff, so this was a really personal issue for us." said David Jenkins, President of TAXI NYC. "Our research showed that caregivers face a great deal of stress in having to play these multiple roles for their loved ones, and that was a really powerful new idea to be talking about. We knew that there was creative opportunity to showcase this story, demonstrating to caregivers that we understand their struggle and can offer resources to help."

As an extension of the PSA campaign, the 'Thanks Project' also launches today. This digital experience allows family and friends to acknowledge the incredibly important work of caregivers in their lives. Through messages of tribute, thanks and support on the microsite thanksproject.org or social media using #thanksproject, grateful friends and family can share their appreciation.

"Through our partnership with AARP we can provide resources to help more women nationwide self-identify as family caregivers so they can get the emotional, health and financial support they need to care for themselves and their loved ones," said Peggy Conlon, president and CEO of the Ad Council. "We are calling on all adults to recognize a loved one or friend who is a caregiver through the 'Thanks Project' so she will no longer feel alone."

Launched in fall 2012, the Caregiver Assistance campaign has received over $19 million in donated media and the AARP.org/caregiving page has received more than 10 million visits. Per the Ad Council model, the PSAs will be distributed to media outlets nationwide and air and run in advertising time and space donated by the media.