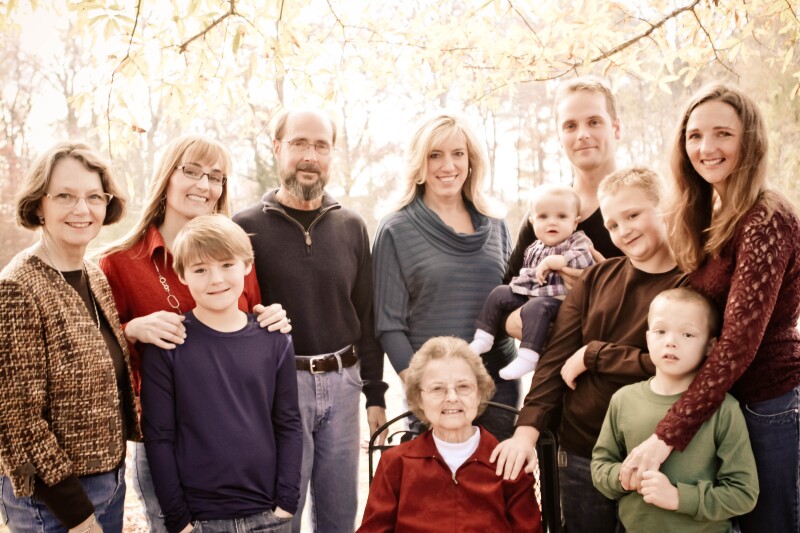 By Ronda Gooden

(Photo: Judy Raymond (left) is pictured with her husband (third from left); mother-in-law (seated); three children; daughter-in-law; and four of her grandchildren.)

Many women find themselves serving as a caregiver at some point in their lives. For Judy Raymond of Starkville, caregiving became a constant part of her life when she was a young wife and mother of three children. In her early 30s, Judy was balancing family life, work, nursing school and caregiving.

Over three decades, Judy has been caregiver for her aunt, step-mother and mother-in-law. The balancing act has required her to delay graduate studies and career at various points. Despite the challenges, she earned a master's degree in pediatric nursing, worked as a nurse and nurse educator, and raised three children with her husband. Over the years, Judy has managed to research and obtain services for loved ones in her care.

Judy's caregiving journey began in the 1980s. The Wyoming native was living in Savannah, Ga. with her family and keeping in touch with her aunt who still lived in Wyoming. "We kept in touch over the phone and I visited every summer," Judy said. Her aunt's doctor called Judy to inform her about a person who was taking advantage of her aunt. "I got there (Wyoming) and noticed bills all over the house that hadn't been paid," Judy said. "A man got $25,000 from her for a sprinkler system that never got installed, and she kept responding to fund-raising letters requesting money."

After careful planning, Judy moved her aunt to an assisted living facility in Savannah one winter. "We made the move an adventure," Judy said. "We used furniture that my aunt had in her basement in Wyoming. She didn't notice it was different and that made it easier." Her aunt had been diagnosed with multiple vascular dementia, a result of mini-strokes.

Judy's aunt, a former nurse, was able to have some independence and lived in the assisted living facility for four years. "I went in one day and her apartment was a mess and she had a black eye," Judy said. "I was not willing to place her in a nursing home," Judy said. "So I quit my job to care for her in my home."

Judy began to assess services and found an Alzheimer's Activity Center in Savannah that provided care for her aunt during the day time. Later, she found respite care that allowed her aunt to stay in a facility for two-week periods. Respite care provides caregivers a break to take care of other things and get rest.

Eventually, Judy's aunt was placed in hospice care because of congestive heart failure. "They took her off her medication and she got better and lived for three more years," Judy said.

Judy's experience with her aunt highlights the importance of a living will and advanced directives, both of which her aunt had. "She wouldn't eat, and she couldn't eat. She would throw up Ensure," Judy said of her aunt's last days. "She had a letter from her physician that she expected to pass at home."

When her aunt passed, Judy had to deal with grief, as well as questions about her aunt's death. "She normally was about 100 pounds," Judy said. "But she was down to about 60 pounds because she wasn't able to eat." To find support and other people who had similar experiences, Judy joined an Alzheimer's support group. "I went back to school and took one class and decided it wasn't time," she said.

Caring For Her Step-Mother

When her husband accepted a job in Little Rock, Ark., Judy went back to work as pediatric nurse in a local hospital. A few years later, the family moved to Starkville where her husband accepted a job at Mississippi State University. Judy worked as a nurse practitioner and nurse educator at Mississippi University for Women. She kept in touch with her step-mother who lived in Wyoming and planned to visit. "I noticed on the phone that she thought I'd already visited her," Judy said. When Judy visited, she found her step-mother didn't recognized her and needed care. Judy's step-mother, who was diagnosed with Alzheimer's, received nursing home care for 30 days and then was moved to an assisted living facility in Wyoming.

"I had to make a decision," Judy said explaining she cut back on work and brought her step-mother to live with her. Caregiving was a full-time job. Judy describes one experience when she had to place her step-mother on an air mattress until her husband arrived to assist her in placing her in the bed. After a year, Judy took her step-mother back to Wyoming where she lived in a nursing home for nine months. Judy went back to work.

Caring For Her Mother-In-Law

In 2011, Judy and her husband decided to move his mother from San Francisco to Starkville. Judy's mother-in-law had lived in assisted living apartments in California. Her primary caregiver was Judy's sister-in-law who recently had been diagnosed with ALS.

Judy retired last year from Mississippi University for Women. She and her husband have the support of their daughter who also lives in Starkville. Through word-of-mouth, Judy hired an aide that she calls "fabulous."

Having a dependable aide means Judy and her husband can do things like attend symphony board meetings or Mississippi State University football games. When the couple went away in July, their daughter and grandson moved into their house to care for their grandmother and great-grandmother.

Judy believes her mother-in-law would benefit from community-based adult day care or other services. "She honestly gets bored but is unable to do things," Judy said.

Judy's path of family, career and caregiving has not been an easy one. But she has received support from her family and, when she could, community services for caregivers. As a nurse, Judy believes she had a "natural caregiving desire." Caregiving has been "rewarding, yet challenging," she said.