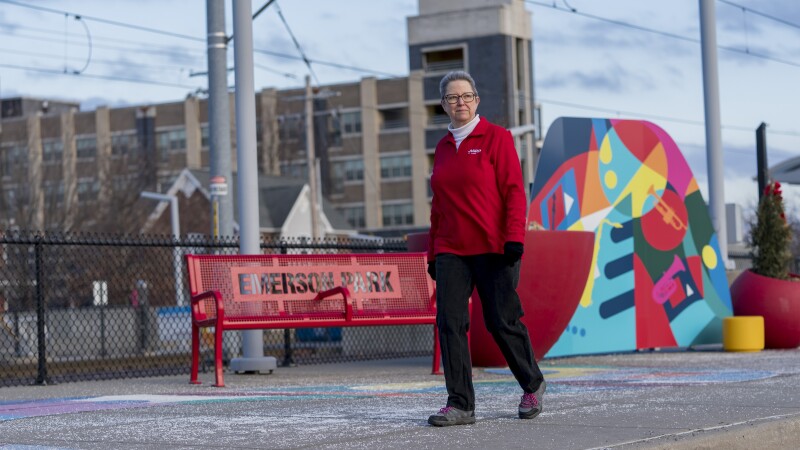 Marilyn Turner is an AARP volunteer who rides the Metro Link light rail in the St. Louis area looking for and reporting problems like graffiti and safety issues at stations.

The Emerson Park station in East St. Louis, Ill., one of 38 in Missouri and Illinois, stood out as an unappealing stretch of concrete, Turner says.

No longer.

AARP Missouri and the St. Louis nonprofit Citizens for Modern Transit, with funding from the St. Clair County Transit District, transformed the station into a welcoming place for riders and residents alike, featuring a mural funded by an AARP Community Challenge grant, seasonal plantings, shade canopies and piped-in music to honor the jazz history of the area that was home to artists such as Miles Davis.

The project followed a similar effort in Maplewood, Mo. Next stop: the station in Belleville, Ill.

"The transformation of Emerson Park has been amazing," says Turner, 70, of Webster Groves. "Now it's vibrant. It shows somebody cares about that spot; it's a welcoming place with shade in the summer, a place to feel good in."

"Through local engagement, we're transforming stops that represent the needs and interests of the community," says Sheila Holm, community outreach director for AARP Missouri, who is leading the St. Louis effort.

The Belleville project, to be completed by early summer, will engage community leaders, high schoolers and others in the design. Find more information at aarp.org/stlouis.

Fitness Park, Faster Internet

The project is part of AARP's Livable Communities initiative to make areas more welcoming to people of all ages.

The program includes two additional projects: an exercise park and a push for expanded high-speed internet.

In partnership with Kansas City Parks and Recreation, AARP Missouri sponsored a fitness park that was completed last year. Designed for older adults, the park is ideal for everyone, with spaces for yoga and Pilates classes, as well as exercise stations.

Craig Eichelman, AARP Missouri's state director, says the project is part of an AARP pledge to put one FitLot outdoor exercise park in every state, the District of Columbia, Puerto Rico and the U.S. Virgin Islands.

"We are investing in amenities older adults want, to stay in the community," he says.

"It's a good-looking area that is part of the urban core, a great space that's being reimagined. Our priorities include fighting social isolation and encouraging people to be mentally and physically active."

AARP also is partnering with the state Department of Economic Development to improve mapping of areas that lack high-speed internet access and to push for grants to improve that service.

"The COVID-19 pandemic has highlighted the need for older Missourians to get access to high-speed internet for basic health care services and to prevent isolation by staying in touch with their loved ones and caregivers," says Jay Hardenbrook, advocacy director for AARP Missouri.

"It's clear that broadband is an essential public service."

For more information about AARP's Livable Communities efforts in the state, go to aarp.org/livablemissouri.

Tim Poor is a writer living in Clayton, MO.

What Is a Livable Community?
For More on Livable Communities