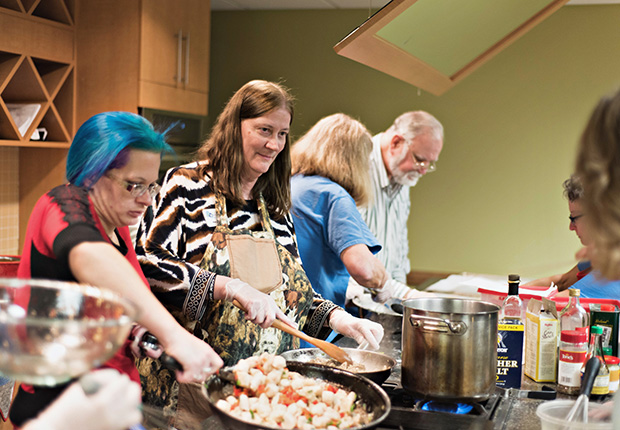 By Tim Poor

Don Smith had never heard of jicama. Dennis Gibbons didn't care for kale.

But both men had their culinary worlds expanded through "What's Cookin' with AARP," a series of free cooking classes being offered in the Springfield and Kansas City areas.

"Coming from a meat-and- potatoes background, it really has opened my eyes to so many different styles of cooking," said Smith, 68, a retired teacher and AARP community advocate who lives in Battlefield.

Jicama, a root vegetable that tastes something like an apple, was in a Mexican chopped salad that Smith and his wife, Sally, 67, helped make during the class.

His experience was not unusual, said Amanda Broombaugh, a dietitian for the Hy-Vee grocery chain. She leads the monthly classes at the Springfield Hy-Vee.

"They really like expanding their skills," Broombaugh said. She demonstrates new ways to prepare vegetables such as cauli­flower and brussels sprouts that make them tastier.

The participants, who don't have to be AARP members, come from diverse backgrounds.

"Some people don't know how to cook at all, and others have been cooking since they were a kid," Broombaugh said. "It's not a0s intimidating when you are in a social setting."

People gather in a kitchen at the store, where different groups each prepare one of the recipes for the evening. The meal is served family style, and everyone gets a copy of all the recipes to take home. "Mealtime is an integral part of health, not just physically but emotionally," Broombaugh said.

The classes were started by Diane Hall, AARP Missouri's community outreach director. They began in 2015 in Springfield and expanded to the Kansas City area last fall. So far, more than 300 people have attended.

Upcoming Sessions
"It's a little bit chaotic, but it's a lot of fun, and they get to socialize," Hall said. "This is a fun thing that meets our goals for livable communities and helps to introduce AARP to the community."

The collaboration with Hy-Vee has been crucial to the success of the classes and enabled AARP to offer them for free, Hall said. She hopes to find similar partners in other parts of Missouri.

People can get more information and find out how to register at aarp.org/springfieldmo or aarp.org/kansascity or by calling 877-926-8300 toll-free. Classes are set for Springfield (March 21 and April 18) and Kansas City (March 14 and April 10).

Rebecca Forrest, a Hy-Vee dietitian who helps lead the Kansas City classes, said four locations will be added this year.

"I think it's really fun to just see individuals working together," she said. "Some have just met; some bring grandchildren. The community-building aspect is really awesome."

She added: "I try to choose healthier recipes that may be familiar but made in a different way with fresh ingredients. It kind of broadens their horizons."

Kale had never been on the food horizon for Gibbons, 62, an AARP volunteer from Battlefield. But he learned that, by massaging the leaves with a little olive oil and salt, he can transform them into tasty, bite-size pieces.

"It brings out a different flavor," said Gibbons, who noted the class has influenced his cooking. "Every month we take at least one recipe and fix it at home."

The meal at the end of the class is always a plus. "It's a feast," he said. "You can't walk away hungry."

Tim Poor is a writer living in Clayton, Mo.