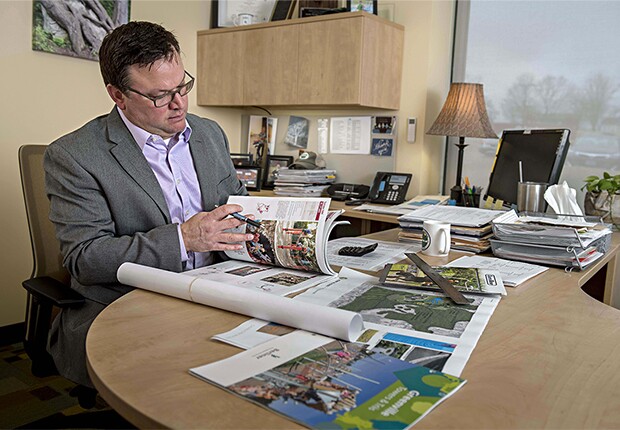 By John Reinhart

Across the United States, communities are redesigning themselves to be more livable for residents of all ages. One notable example in the Show-Me State is Gladstone's Hobby Hill Park, which is undergoing a five-acre renovation so that "everybody can jump in and play at once," said Justin Merkey, the city's director of Parks, Recreation & Cultural Arts.

The 39-acre park in the northwest corner of Gladstone had been largely undeveloped until now, Merkey said. A dense growth of spindly trees, brush and honey­suckle was removed to make way for the renovation, which consists of three distinct playgrounds (two for children, one for adults), a walking trail and a garden for contemplation.

The renovation is scheduled to be completed this summer, and Merkey predicted that because of its appeal to all generations, it will create a unique attraction in Gladstone and promote a sense of community.

AARP Missouri donated $20,000 to the project. "Cities that offer accessible amenities and services that people of all ages want—such as walkability, cultural enrichment and innovative public spaces like Hobby Hill—are surging," said Craig Eichelman, AARP Missouri state director.

The contribution, Eichelman said, reflects AARP's commitment to supporting the efforts of cities, towns, counties and states to provide safe, walkable streets; age-friendly housing and transportation options; access to needed services; and opportunities for residents to participate in community activities.

The Hobby Hill Park project is one of many AARP-backed efforts to encourage the development of livable communities throughout Missouri.

Other actions include:

Helping to secure the passage by the City Council in Kansas City of a "Complete Streets" ordinance that reflects the needs of all residents."A Complete Streets policy ensures that transportation planners and engineers consistently plan, design, operate and maintain the entire roadway with all users in mind," Eichelman said, referring to motorists, bicyclists, pedestrians and people using public transportation.
Working with Citizens for Modern Transit (CMT) in St. Louis to showcase how areas around bus and rail stations can become the focal points for a variety of community activities, such as food-truck sales, tai chi sessions, cooking demonstrations, animal adoptions and police department recruiting efforts.AARP also worked with CMT and other community organizations to complete walking audits of three MetroLink stations. Recommendations from the audits include ways to improve the functionality and safety of the stations.
Securing passage of a Complete Streets ordinance in Florissant. The City Council established a board whose mission is to ensure that Complete Streets principles are applied to the city's street improvement projects.
Transforming a major thoroughfare in Maplewood into an area that invites people to gather. A Better Block undertaking, the goal of the project is to transform the space with the focus on people rather than vehicles.
Encouraging communities to join the AARP Network of Age-Friendly Communities. In September, Arnold joined the netwok of more than 200 localities across the nation.
St. Louis County was the first community in Missouri to become part of the network. The purpose of the program is to educate, encourage and promote communities as they address the rapid aging of our population. The age-friendly program offers a framework that communities can use to evaluate where they are now and guide them as they create and implement a plan for the future.

John Reinhart is a former strategies communications director for AARP.