In mid-March, a bomb cyclone storm hit Nebraska with heavy snow and rain that caused historic flooding in many communities now struggling to recover.

It was called a 500-year flood and the worst natural disaster the state of Nebraska has experienced. The cost of damage for the state has surpassed $1.3 billion and will rise significantly as damage is assessed.

As an organization that has friends, family and volunteers directly impacted by the disaster and is concerned for the 50+ population that has been impacted, as well as all others, AARP Nebraska is assisting in a couple ways.

First, AARP Nebraska in collaboration with the AARP Foundation, is donating $20,000 to the recovery efforts. Specifically, we are making the donation to the Nebraska Farm Bureau Foundation to provide emergency aid to Nebraska farmers, ranchers, and rural communities affected by recent storms and flooding.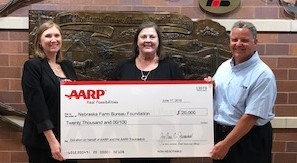 Priority will be given to efforts to restore health and safety in rural communities and to farm and ranch households that have been damaged or displaced by the natural disaster. 100% of the donations will be distributed to Nebraska farmers, ranchers, and rural communities affected by the disasters.

The Nebraska Farm Bureau Foundation was selected because of the scale of the flooding and the impact on many rural communities and farms and ranches in the state. The average age of farmers in Nebraska is age 55 so we know that the disaster impacted many people age 50+.

Second, AARP Nebraska teamed up with the Better Business Bureau in May to hold a series of public events in central and eastern Nebraska on disaster prevention and recovery.

The program focused on how older adults should prepare for disasters and on scams and fraud that target disaster survivors.

Unfortunately, natural disasters are a prime time for scammers to take advantage of individuals through contractor and insurance scams, fraudulent charities and more.

"This was a devastating storm and we want to do what we can to help our fellow Nebraskans," AARP Nebraska State Director Connie Benjamin said. "We hope that our donation to the relief efforts and our outreach efforts on disaster fraud will help those in need."

For more information on these efforts, contact Devorah Lanner at DLanner@aarp.org.