En Espanol | A record number of Nebraskans voted by mail in the May primary, and state officials expect absentee and early voting to be popular options for the November election because of the pandemic:

The state's three largest counties will distribute request forms for mail-in ballots to all registered voters this year, encouraging them to safely cast their ballots from home. Several rural Nebraska counties already vote almost entirely by mail.
Nebraska is a "no-excuse" state, so voters can receive and use an absentee ballot without giving a reason.
Nebraskans can vote early in person at their county local elections office starting Oct. 5.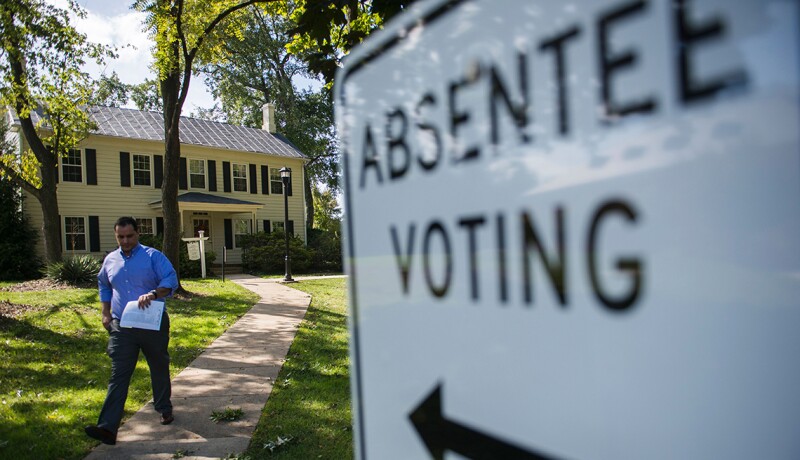 Here's what else you need to know:

How do I register to vote?

Nebraskans can register to vote online, by mail or in person. You can use the state's online voter registration portal if you have a state-issued driver's license or identification card. Those who do not have either ID must register by mail or in person. Download the registration application from the secretary of state's website or get one at any Department of Motor Vehicles (DMV) office or at most banks, libraries, post offices and state public assistance offices.

Those registering for the first time by mail must include a copy of either a valid photo ID or a recent utility bill, bank statement, government check or other government document. The secretary of state's voter registration guide includes a full list of acceptable documentation.

You may also register to vote in person at your county elections office up until 6 p.m. on October 23. If you want to register to vote when applying for or renewing your driver's license at the DMV, the completed registration form must be submitted to your local county elections office by Oct. 16.

You can also check and update your registration information through the online voter registration portal.

How can I get a mail-in ballot? Are there important deadlines?

Any registered Nebraskan voter can apply for a mail-in ballot online, at your county elections office or by mail, fax or email, sending your completed application to your local elections office no later than Oct. 23. You don't need to cite a reason for the request. Election officials began accepting early mail-in ballot requests on July 6.

In Douglas, Sarpy and Lancaster counties, government officials will mail ballot request forms to registered voters, allowing them to opt into receiving a mail-in ballot. Check your voter registration information to make sure your address is current. Several rural counties also vote almost entirely by mail. Voters in those counties still have the option to vote in person, early or on Election Day, at their local elections office. But most registered voters in those counties cast their ballots by mail.

Your ballot must be returned to your county elections office by 8 p.m. CT or 7 p.m. MT on Nov. 3, Election Day. Or drop your ballot at a secure drop box maintained by your county elections office.

How do I know my absentee ballot is secure?

Nebraska maintains an online voter portal that allows voters to track their ballots. Nebraskans have not needed an excuse to access absentee ballots since 1999, and the state has a long history of successfully managing mail-in ballots.

When is Election Day? When are polls open?

Tuesday, Nov. 3. Polls are open from 8 a.m. to 8 p.m. in the Central time zone and 7 a.m. to 7 p.m. in the Mountain time zone. You must vote at your designated polling place, which can be found via the state's online voter portal or by contacting your county elections office.

Can I vote before Election Day?

Yes. If you would like to cast your ballot before Election Day and would prefer not to use the state's no-excuse mail-in ballot, you can vote in person at your county elections office starting Oct 5. Early voting runs through Nov. 2, the day before Election Day. Contact your county elections office to confirm when it is open for you to cast your ballot.

What form of identification do I need to vote?

No identification is required, with the exception of first-time registered voters who mailed in their registration and did not include a copy of their ID or address verification.

What is being done to make polling places safe from the coronavirus?

The state is supplying poll workers with personal protective equipment, among other safety measures.

Will I be able to vote in the same place as I always have?

Not necessarily. Fewer election workers may mean that some polling places will be combined. Check with your county elections office to determine where you should cast your ballot.

What are the key races in Nebraska?

U.S. President
U.S. Senate: Incumbent Ben Sasse (R) vs. Chris Janicek (D) and Gene Siadek (L)
U.S. House: All 3 seats
State legislature: 25 of 49 seats
This story was updated on Sept. 29 with more information about registering to vote. Voting rules and procedures may change before Election Day. We'll update this story if they do, so bookmark this page and check back.

AARP is urging older Americans to ask the candidates five key questions:

Just over half of all older Social Security beneficiaries rely on the program for at least 50 percent of their income. If elected, how will you ensure that current and future Social Security benefits are not cut as part of deficit reduction?
Half of the people with traditional Medicare spend at least a sixth of their income on health care. If elected, how will you protect Medicare from benefit cuts, as well as lower health care costs and ensure that seniors continue receiving the affordable health care they have earned?
COVID-19 has caused death and suffering for too many older Americans who require long-term care. If elected, how will you make sure seniors can access safe and affordable long-term care at home, as well as in facilities like nursing homes and assisted living?
Also of Interest