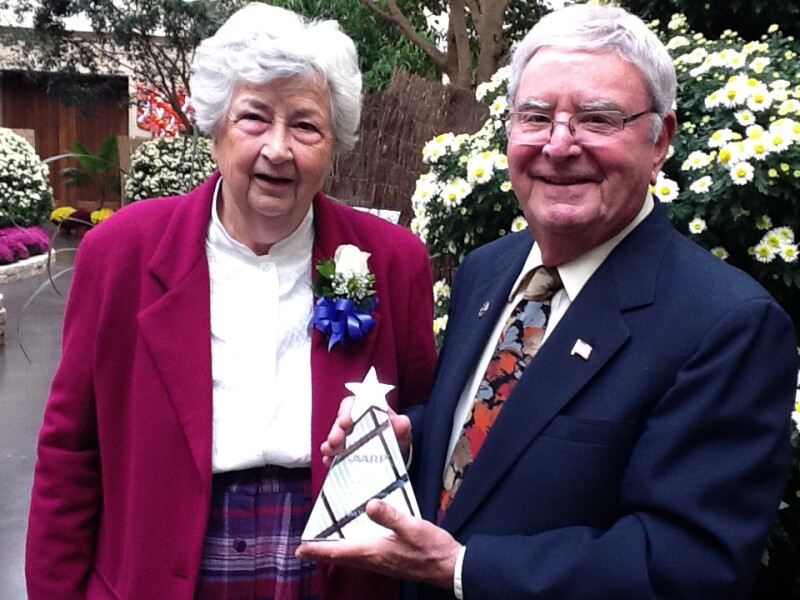 Omaha resident Ann Van Hoff has been selected by AARP to receive Nebraska's 2012 AARP Andrus Award for Community Service, the association's most prestigious and visible volunteer award. This award symbolizes an individual's power and ability to make a difference in the lives of others.
AARP Nebraska selected Van Hoff for her remarkable service and impact on the lives of others and on her community. A retired professional nurse, Van Hoff has been a leader and advocate in Omaha's Benson community for more than 20 years. She is an active member of the Benson Neighborhood Association, having served as a board member and treasurer and making monthly contributions to the newsletter. She nurtures friendships in the community, taking people to physician appointments; visiting them in their homes, hospitals and nursing homes; and promoting their health to prevent hospital readmissions. She is a past secretary for the Northwest Omaha Weed and Seed Steering Committee, an arm of the U.S. Justice Department.
Van Hoff first became involved with AARP as Assistant State Director for Health Advocacy, teaching people about Medicare, Medicaid and Social Security. She served as an AARP representative on CIMRO, the regional quality improvement organization for the Centers for Medicare and Medicaid Services. Van Hoff currently serves as president of the AARP Florence Area Chapter #2269 and is an advocacy volunteer with AARP Nebraska.
The AARP State Andrus Award for Community Service recognizes individuals who, through volunteer service, are significantly enhancing the lives of individuals age 50 or older. The award will be formally presented to Van Hoff during an Oct. 26 ceremony at Lauritzen Gardens.
"This award acts as a symbol to the public that we can all work together for positive social change," said Bob Eppler, state president of AARP Nebraska. "AARP has long valued the spirit of volunteerism and the important contributions volunteers make to their communities, neighbors and the programs they serve."
Recipients across the nation were chosen for their ability to enhance the lives of AARP members and prospective members, improve the community in or for which the work was performed, and inspire others to volunteer.