Like just about everything else, voting during the time of the COVID-19 pandemic may look differently for some people, as they decide how best to vote in the upcoming Nov. 3 General Election.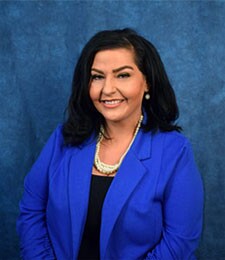 To help people receive all the information they need, the AARP New Mexico Las Cruces Chapter is virtually sitting down with Doña Ana County Clerk Amanda López Askin, PhD., to talk about all the ins and outs of voting and will be taking questions from the public. This special event will take place twice. The first conversation is set for Thursday, Sept. 10 and the second is Monday, Oct. 5. Both are from 2 p.m. to 3:30 p.m.

The conversations are part of AARP's "Protect Voters 50+" campaign, an initiative to ensure that however people choose to vote this election, they are able to do so safely.

"What we really want to emphasize is that people vote," said Dave Lynch, AARP Las Cruces Chapter President. "We realize it's an uncertain time right now but people should not let fear keep them from exercising their right to vote."

"By talking with County Clerk López Askin, we hope to give people as much information about how they can go about voting, whether choosing absentee, early voting or voting on election day, and feel comfortable with whatever option they choose. And who better to have those answers than our own county clerk," Lynch said.

To register for the September meeting visit https://states.aarp.org/new-mexico/events-nm The October meeting will soon be listed at the same link, so please check back.

To learn more about voting around the state visit www.aarp.org/nmvotes

However, the campaign goes beyond being able to vote safely. AARP also wants to ensure that politicians are paying attention to the issues that matter most to voters age 50 plus. That's why AARP is fighting to protect 50 plus voters on the issues like protecting Social Security and Medicare and lowering prescription drug prices.

AARP New Mexico Associate State Director for Advocacy, DeAnza Valencia, said candidates who ignore the issues that important to older voters might not win on Election Day.

"Our research shows that older voters determined that last two elections and while some politicians may think that they need to sway younger voters, if they ignore the older voter they do so at their own peril," Valencia said.

In the last two elections, 50 plus voters decided the elections. In the 2016 presidential elections 53 percent of the electorate was people age 50 plus. In the 2018 mid-terms, 59 percent was age 50 plus. Therefore, it makes sense that the 50 plus voter will determine this election as well

"We're speaking up to candidates to remind them that 50+ voters are watching," she said.

The "Protect Voters 50+" campaign will provide people with the information they need about this year's elections, including:


Video voters' guides
Polling
Issue briefings
Direct mail, text messaging, social media and paid media

Again, to register for the Sept. 10th Las Cruces conversation visit https://states.aarp.org/new-mexico/events-nm The October meeting will be listed soon at the same link.

AARP has a proud 34-year history of non-partisan voter engagement and does not endorse or oppose candidates, nor does AARP make contributions to political campaigns or candidates. We encourage all New Mexicans to ask questions, so they understand where the candidates stand on important issues and make their own decisions this fall.