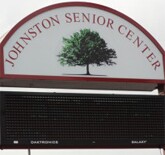 AARP Rhode Island Testimony H5217
AN ACT RELATING TO STATE AFFAIRS AND GOVERNMENT -- ELDERLY AFFAIRS DEPARTMENT
House Committee on Finance
Tuesday, April 10, 2013
AARPRI
Chairman Melo and Members of the Committee:
My name is Deanna Casey and I'm the AARP Rhode Island Associate State Director for Advocacy. Thank you for the opportunity to speak today. I would like to share with you AARP's enthusiastic support for House Bill H5217, An Act Relating to State Affairs and Government – Elderly Affairs Department, which would implement a funding formula for Senior Centers based on the 65+ population in a community.
As I'm sure you are aware, senior centers are the very heart of many communities across the state when it comes to older residents. Senior centers provide a place to go where they can socialize with their peers and avoid isolation. Senior centers provide a critical point of contact so others can check on the older adults' well-being. Senior centers provide a place for services ranging from meals to case management to health screenings to informational seminars on issues that especially affect seniors, such as Medicare, fraud awareness and fall prevention. Senior centers provide activities to enrich the lives of seniors, such as classes, trips, and other group activities.
Older adults across the state rely on their senior centers. However, senior centers cannot perform their many functions in the community without assistance. Senior centers offer more than just a room for the older adults who use their services. Their services often keep older adults in their homes and in their communities by keeping them active, in contact with their community, and connected to services provided for them. It is important to examine and understand the integral role that senior centers play in their communities.
Across the nation, 1 million older adults take part in services offered by senior centers. The National Council on Aging produced a fact sheet that is in your package. It gives you a snapshot of the impact that nearly 11,000 senior centers in the nation are having on their communities. The fact sheet highlights key information about senior centers and provides some context for future changes. Research shows that older adults who participate in senior center activities have higher levels of health, social interaction, and life satisfaction than their peers.
Also included is a summary report on Rhode Island's performance on the Long Term Services and Supports Scorecard. This scorecard is a multidimensional assessment of a state's performance with respect to Long Term Care Supports and Services. Rhode Island ranked 34 th nationally. To improve Rhode Island's score the first policy action recommended by an independent consultant that AARP Rhode Island hired was to "Promote robust community aging services network such as senior centers, senior nutrition and wellness programs through adequate population-based funding." This bill is in response to that.
As the massive Boomer population continues to age, the impact of senior centers will increase in significance. Rhode Island is one of the oldest states with the highest percentage of 85+ population.
I know the members of the committee are personally familiar with the value of the senior centers and recognize the need to provide a dependable source of funding reflective of the community that they serve.
AARP with over 131,000 members in Rhode Island supports House bill H5217 and urge you to consider this bill favorably.
Thank you for your time and attention.
Submitted by
Deanna J. Casey
Associate State Director, Advocacy
AARP Rhode Island
Photo: Johnton, RI  Patch.com