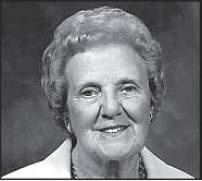 AARP Rhode Island mourns the passing and celebrates the life of 2008 Ethel Percy Andrus Award winner for Community Service, Virginia Tierney, who passed away Nov. 3 at the age of 98. The recognition by AARP is noted the Providence Journal obituary below, but the tribute does not begin to tell the story of her longtime dedication to our organization and its mission.
She was the wife for 49 years of the late Charles Tierney. Born in Torrington, CT., she was the daughter of the late Frank and Bessie (Reynolds) Twining and sister of the late Alden Twining.
She had resided in Emerald Bay in Cumberland since moving from Hingham, MA in 1992 and Quincy, MA in 1993.
Her undergraduate degree in business from Boston University in 1936 led her to graduate courses in personnel work, a new field of study. While working at Harvard, she met and married her husband, Charles, the manager of the Harvard Club. From 1948 to 1960, they owned and managed the Country Fare Restaurant in Hingham, MA.
Virginia's interests in life were learning, minority rights and service to others. While running the restaurant and raising two children, she served as the first female President of the Boston University Alumni Association. From 1959 to 1981, she worked at B.U. advancing from a position of Secretary to Director of Equal Opportunity and later to Director of Personnel. She received her Masters Degree in 1968 and was given an Honorary Doctorate Degree by Nichols College in 1981 after serving many years on the Board of Trustees.
After retiring she became very involved in volunteering using her wealth of experience. Among many positions, she served as Speaker of the Silver Haired Legislature in the MA State House for several years and then became active in AARP serving as the Vice-President for the Northeast Region from 1988-1994. Then she served a term of 8 years on the National Board of Trustees ending in 2002. During that time she provided testimony for the United States Congress.
Mrs. Tierney, at the age of 88, moved to Rhode Island and revitalized the AARP in Cumberland. In 2008, AARP honored her with the Andrus Award given to one person in each state for public service. She also had received the Distinguished Service Alumni Award from Boston University. She always reached her goals through grace, compromise and hard work. She loved to meet a challenge and her favorite was going parasailing at the age of 84. She was a world traveler with particular interest in Russia and Africa.
Virginia was devoted to her family and is survived by her children, David Tierney and his wife, Susan, of Phoenix, AZ, and Marietta Cleasby and her husband, Robert of Cranston, RI She has 5 grandchildren; Meredith, Andrew and Jon Cleasby in New England and Sean and Connor Tierney in the West. She also has 7 great grandchildren.
Relatives and friends are invited to Calling Hours Tuesday 4:00-7:00 PM at the Jones-Walton-Sheridan Funeral Home, 1895 Broad St. at Park Ave., Cranston, RI. Funeral Service and Burial will be Private. In lieu of flowers donations may be made in her memory to Boston University School of Education on line at bu.edu/alumniformsannualfund/index.html, online condolences and Info: www.jwsfh.com