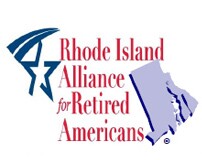 AARP Rhode Island calls on members and volunteers to take part in this event organized by the Rhode Alliance for Retired Americans. Using the chained consumer price index (CCPI) to determine seniors' Social Security benefits will take an estimated $127 billion out of the pockets of current and future retirees in the next 10 years alone.

FIVE REASONS CHAINED CPI WOULD HARM SENIORS
We MUST raise awareness of this threat to retirement security and make it clear to the President and members of Congress that this approach is misguided. We need a separate discussion about the future and sustainability of both Social Security and Medicare apart from the debate over the federal deficit. Learn more about that at www.earnedasay.org.

PLEASE JOIN US. We look forward to seeing you on Tuesday morning at the Mancini Center in North Providence!